Remember the days of sparking up in a shady alley before the movies? While those days may not be entirely gone from view (guilty), tokers have come a long way from having to hide their high and be sneaky stoners. Since legalization, gone are the days of hiding! Now, you can enjoy your favourite icky sticky amongst friends in comfort and luxury in a variety of different 420 friendly lounges and cafes.
These establishments have slowly been on the rise, and you may see more and more of these pot pop-ups appearing as demand for legal bud continues to grow higher and higher – much like their patrons!
Today, we're highlighting some of our favourite honourable herb mentions for you to try. That said, please be respectful of the neighbours. We would like to keep their doors open without complaints.
In other words, practice good cannabis culture etiquette and mind your marijuana manners!
420 Cannabis Court – Toronto, Ontario
420 Cannabis Court was established to create paid opportunities for those made to be out of work and venue space due to the unforgiving COVID-19 pandemic, which is a cause we can all get behind!
This space is a 420 friendly outdoor venue for comedy shows and other live events founded by lawyer Carmya Sa'd and healthcare professional Leslie Bellack.
Its vibe is all about bringing people together to celebrate a shared love of art and laughter while providing a sense of community for locals and newcomers alike. Who doesn't want that!
Ganjah Yoga – Toronto, Ontario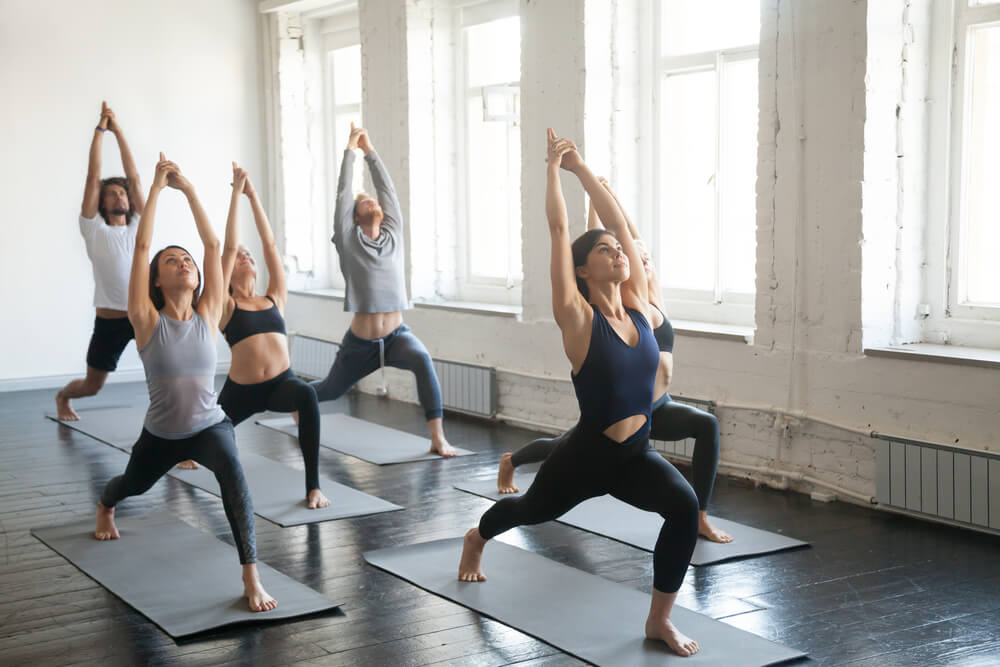 This isn't your typical yoga studio. Ganjah Yoga takes zen to a whole new level by being the first 420 friendly studio with cannabis-infused courses. But only if you want to, of course! The ganja is totally optional.
This studio believes that introducing cannabis into yoga practice allows for a clear yet dreamy mind and savasana that transforms into a deep meditation. Participants use a vaporizer before the beginning of the class to promote intrinsic thinking and self-reflection. 
As many of us already know, weed can help broaden our horizons and open our minds to different perspectives, making it a fascinating and welcomed addition to standard yoga practice.
CAFE – Toronto, Ontario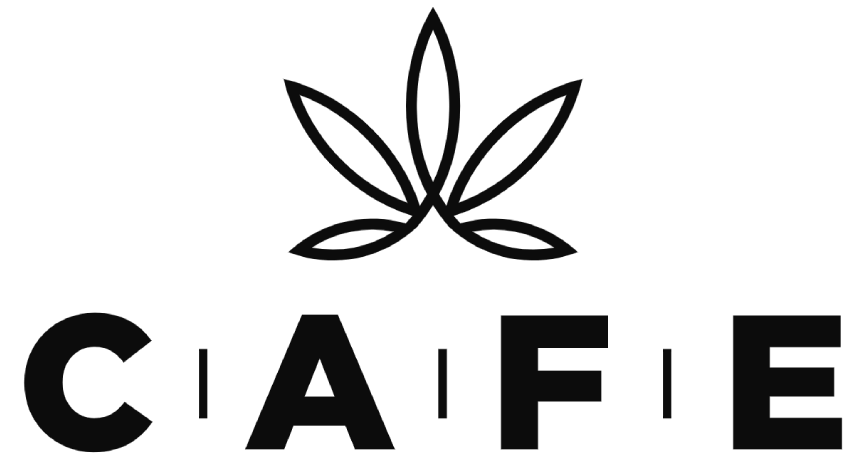 Located in the heart of Toronto, CAFE takes the city's nickname, The Big Smoke, in the most literal sense.
This hidden gem – which now has four downtown dispensary locations – allows visitors to indulge in a shared love of coffee, cannabis and community. CAFE is a cannabis brand on a mission to do good, help people feel their best and create informed customers, all while giving back to the community and keep it safe.
Education is at the heart of this company. Staff receive mandatory certification from the AGCO (Alcohol and Gaming Commission of Ontario) CanSell course. They're also required to participate in a two-day comprehensive retail sales course conducted by the Canadian Cannabis Retailer's Union in partnership with the North American College of Pharmaceutical Technology.
In other words, you can guarantee that your budtender is going to know their stuff if you visit this venue!
New Amsterdam Cafe – Vancouver, BC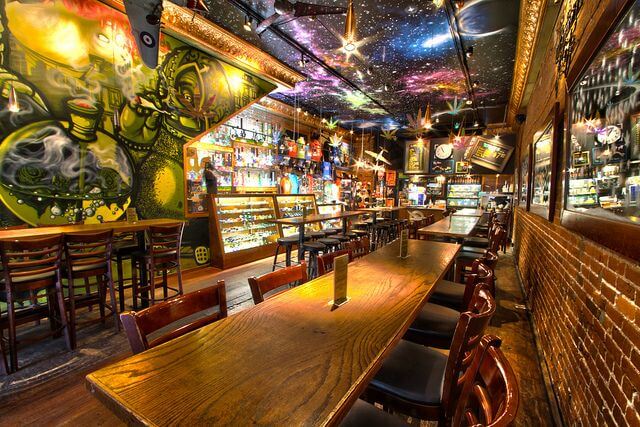 Arguably Canada's first cannabis cafe, how this place has evaded being shut down all these years is nothing short of a miracle! Open since 1998, this 420 friendly cafe and lounge is located on the "Pot Block" in downtown Vancouver.
The New Amsterdam Cafe is all about promoting the responsible use of weed. With a laid-back living room vibe in a trendy, urban setting, this venue is a chill, safe, stigma-free zone for those who love cannabis and/or quality coffee.
Whether you're a first-time toker or a seasoned smoker, everyone is welcome at The New Amsterdam Cafe!
Cannabis Culture HeadQuarters – Vancouver, BC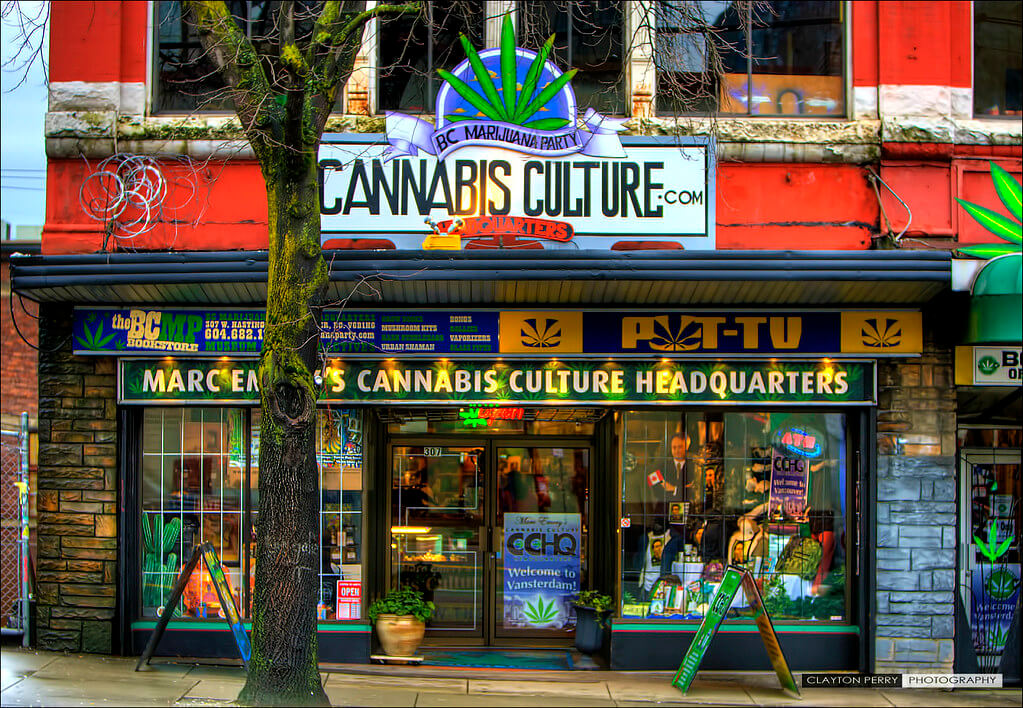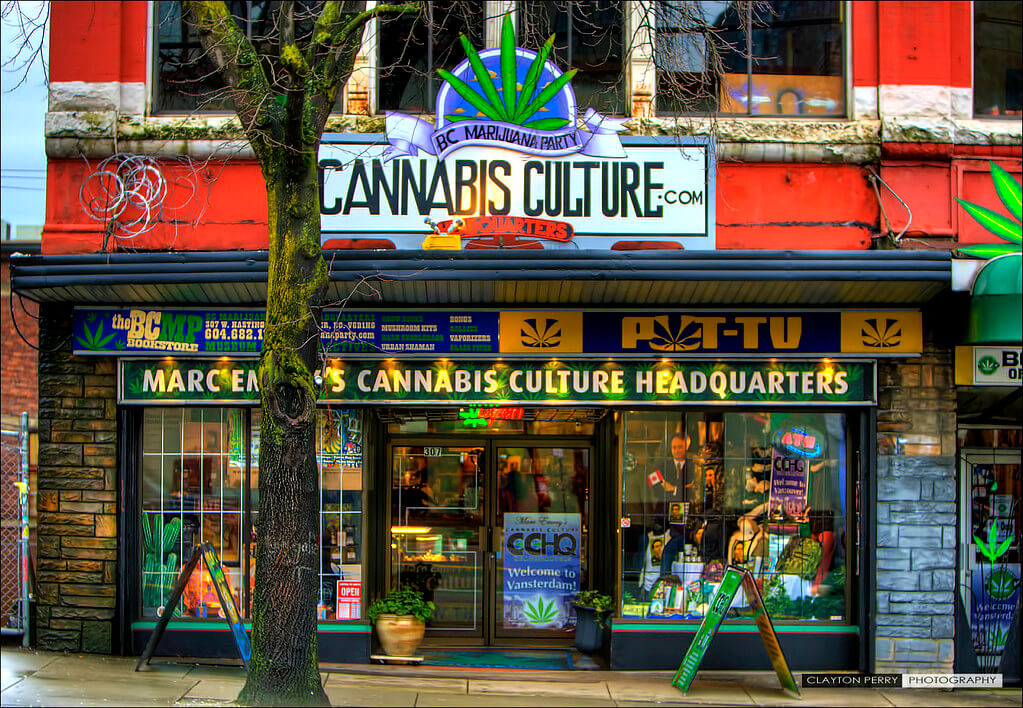 The Cannabis Culture HeadQuarters building in Vancouver's Gastown neighbourhood is also home to a 420 friendly venue called The Vapour Lounge.
Founded in 2001, this two-floor stoner's paradise supplies a comfortable, safe space for tokers to relax and unwind while enjoying their favourite icky sticky and learning about cannabis and prohibition.
Pot patrons can enjoy access to a Volcano vaporizer at every table, free wifi, a stellar view of Victory Square Park and an abundance of various snacks, drinks, and treats to curb any munchy craving.
However, it's important to note that the Cannabis Culture Lounge has a no buying/selling policy. It's strictly BYOB: bring your own bud.