Welcome to the digital age! With weed legal in Canada and in many U.S. states, the demand for weed apps is growing at an exponential rate.
There are apps to help you connect with bud-friendly neighbours, apps that help you find the right products at your local dispensaries, or, even, apps that aid in helping you along growing your own skunk.
There are also a host of ganja-related games and goofy fun phone widgets for the more thumb pressing inclined. So, to help you differentiate which ones you should be spending your precious time on, here are some of our favourite weed apps.
4 Weed Apps That Provide Utility
Leafly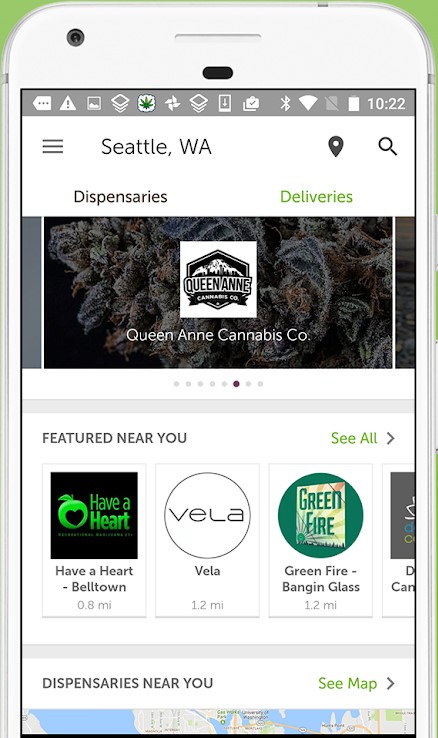 You'll find this weed app riding the top spot on almost everyone's favourite lists. It's well-designed, full-featured and extremely useful. Pulling from hundreds of thousands of user reviews, Leafly lets you sort through hundreds of different strains, edibles, concentrates, and tinctures by flavor, desired effect, medical condition, and more. You can also determine the best products for your needs from all the dispensaries/retail stores in your area, while browsing through local menus, finding nearby doctors, and getting updated with the latest cannabis-related news. If you could only download one weed app, this should be worth considering. That is until Herb Approach's app hits the online shelves 😉.
Platforms: IOS, Android, Website
Grow Buddy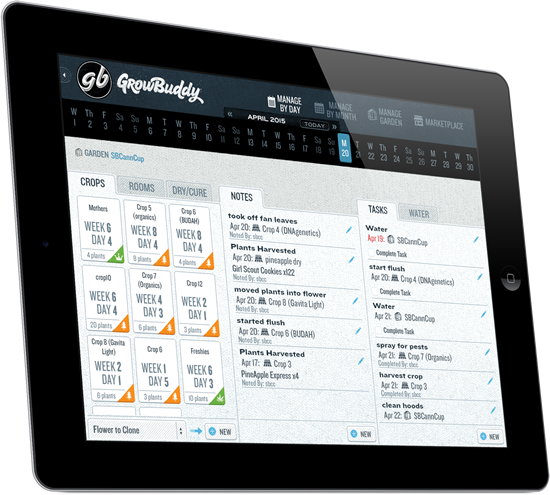 There's a lot to keep track of when you're growing your own, whether you have a large indoor grow system, or a lonely plant hidden in the closet. Details like moisture levels, light cycles and nutrient history are just some important factors, which, if become overlooked, could easily turn your beautiful crop into a failed experiment.
This is where Grow Buddy comes into use. As a grow journal weed app that helps in organizing and monitoring important metrics like those mentioned above, you'll come closer to having that optimal harvest every horticulturist dreams of. Some of Grow Buddy's features include – charting your plant's growth on a weekly or monthly basis, viewing feeding histories and mother and clone counts, and comparing harvests from crop to crop. Also, Grow Buddy's data entry system is anonymous, making every data point encrypted and accessible only to its owner.
Unfortunately, as of this writing, the mobile version is temporarily unavailable due to critical updates. However, in the meantime, a desktop version is available.
Platforms: iOS, Android, Mac, and Windows, Website
Weed Cookbook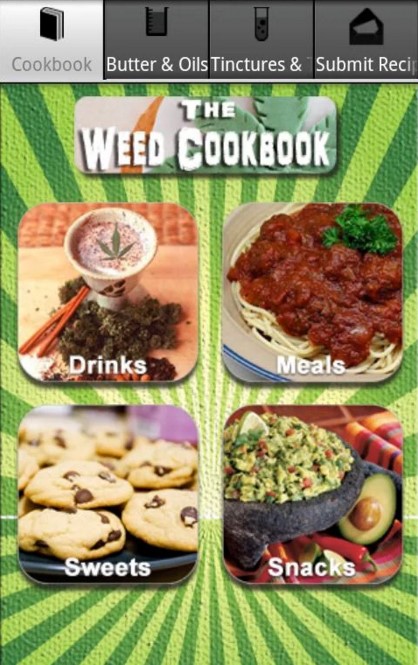 Cooking with cannabis can be out right fulfilling and filling at the same time. However, doing so successfully requires expertise, given the right combination of cannabis and ingredient mixture is in many ways an art. Weed Cookbook may be the app to fill-in such an expertise gap, as it features tons of proven recipes that ease you into the science and art of doobage gastronomy. Whether you're a beginner or experienced chef, Weed Cookbook is sure to provide some insight.
PotBot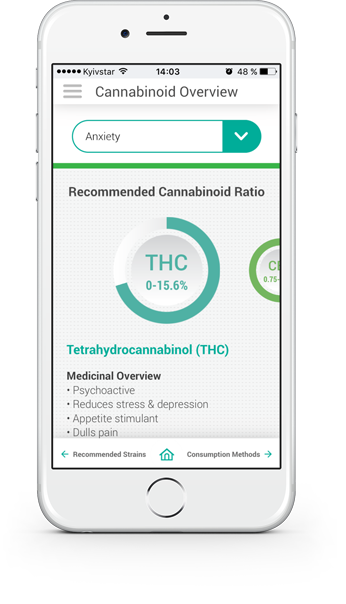 There are a lot of weed apps that help you choose new and interesting strains, but Potbot is the only one that focuses solely on scientific research when making its recommendations. PotBot is built primarily for medicinal marijuana users, and it references the latest peer-reviewed research to help users find the strains and preparations best suited to treating their specific conditions. It's a godsend for people seeking relief, but are befuddled by all the choices available in their areas. It's science, bitches!
Platforms: IOS, Android, Website
4 Weed Apps for Fun
SimLeaf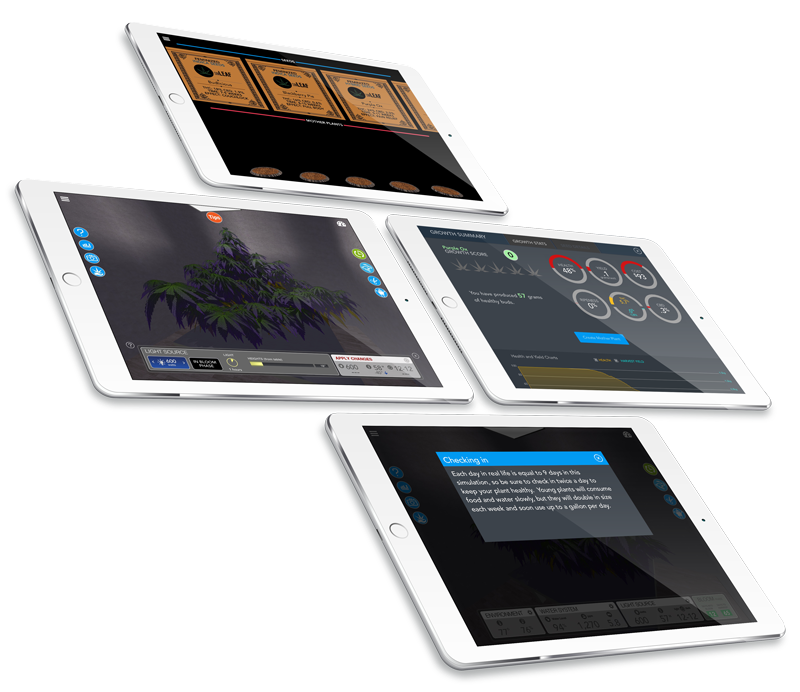 Have you always wanted to try your hand at cultivation, but didn't have the space, time nor the wizardry hands? SimLeaf is a grow simulator that lets you dabble in the botany of pot cultivation without getting your hands dirty. Pick your strain, select your lights and plan your feedings. Then, care for your plants with utmost attention, and wait for the 'bumper crop' of a lifetime. Or ignore your responsibilities, and watch your lovely buds shrivel up and die. If that happens, you can tweak a few variables and try again.
Overall, SimLeaf can be a fun and forgiving way to help you transition into the complex world of horticulture.
Platforms: IOS, Android, Website
Hempire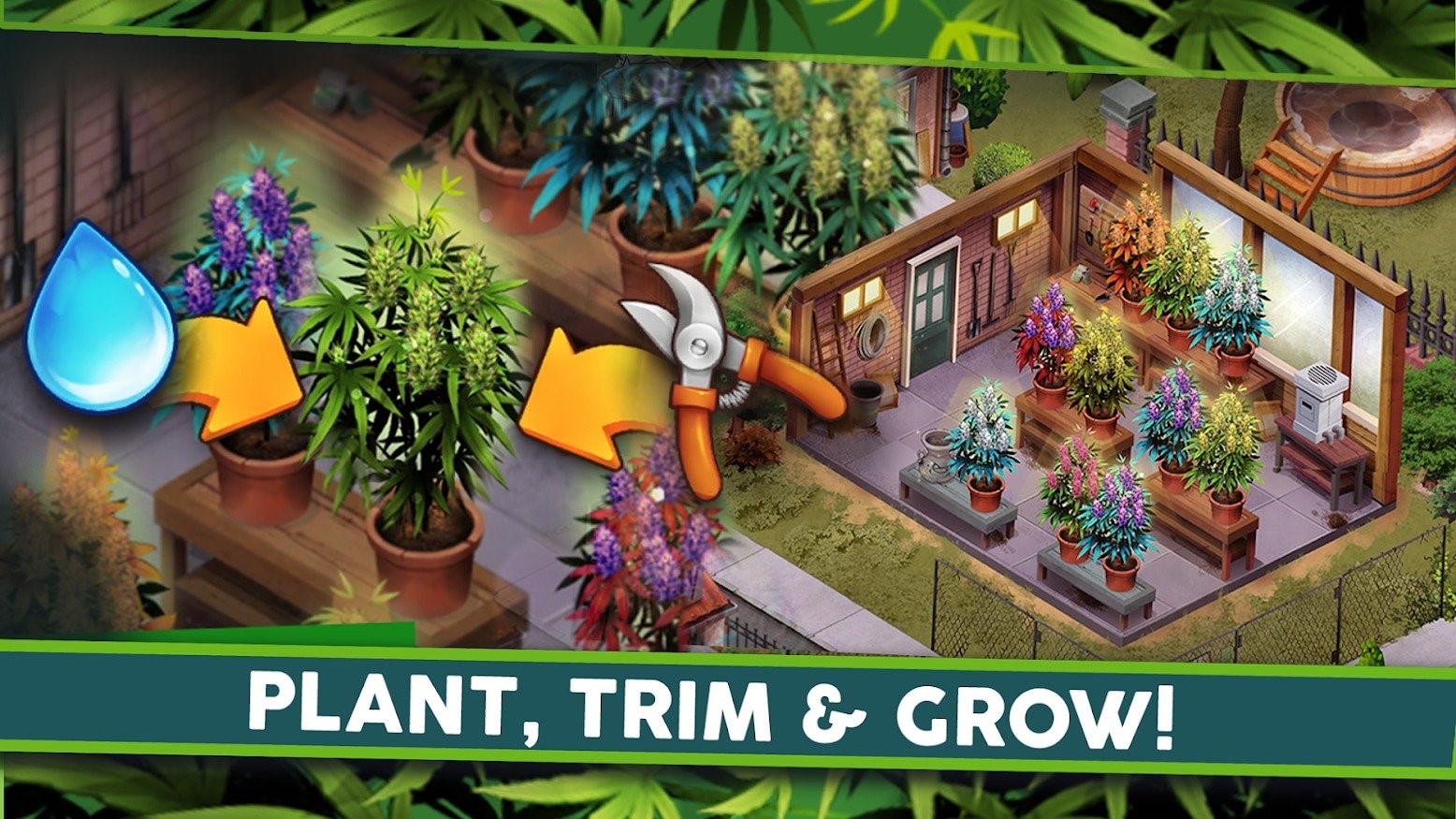 Let your inner weed tycoon go crazy in this game of empire building! Hempire is the highest rated grow game on the Android Play Store. You start the game with a small farm, but through things like research into new strains, upgrading your building and equipment, and smart marketing of your product, you can develop your business into a massive enterprise. You'll create edibles and other preparations to expand your product line, buy real estate and convert it into dispensaries to sell your products, and, even go into the lab to try your hand at hybridization. Play your cards right and you could become the biggest supplier in the world.
Platforms: IOS, Android, Website
Duby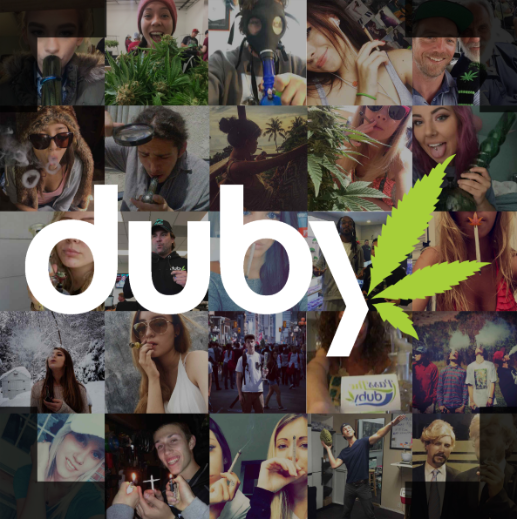 Duby hybridizes a social network with a social game. Users pass photos, called "dubys", of their recreational and medical activities anonymously around to other users on the app. Someone might post a photo of their latest crop, or the fat bowl they're about to spark up. The app chooses which users receive your photo. Those few people then decide whether to forward it along to more people if they like it, or it's ignored if they don't. Users also get points the more widely their photos are shared, so you're rewarded for creating fun, engaging content. Overall, Duby is a gamified social network centered entirely on weed.
Platforms: IOS, Android, Website
Snoop Lion's Snoopify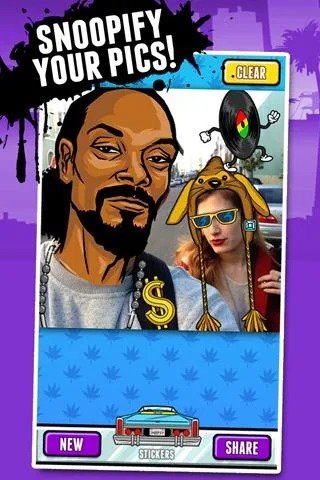 Lastly, the best of the weed apps. You can have fun on your social media feed with Snoop Lion's hilarious photo editing sticker app. Glamorize your pictures with sunglasses, a lion medallion, and a fancy drink in your hand. Then, hang a spliff sticker off your lip and share your dressed-up photo on Facebook, Twitter, Instagram, or even just with your closest friends. The app comes free with a bunch of stickers to get you started and lets you buy extra themed sticker packs if you like.