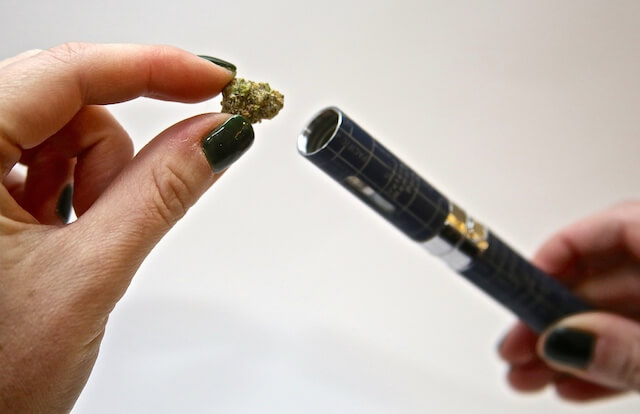 Benefits of Vaporizing Your Cannabis
Cannabis has shown enormous potential and results in the medical field. Switching to a vaporizer even furthers it's amazing benefits.
It's no doubt that cannabis has been growing as an all around wonder plant in the eyes of many. Some of those that grew up with the notion, or taught that marijuana was a harmful plant out to ruin your life may not know where to start when medicating. The most common way of consuming cannabis is using combustion, by putting an open flame to the plant via joint, pipe, or a bong.
While this is effective and has been done for thousands of years, research has shown vaporizing your cannabis is a healthier and much more effective option. Let's take a look at what makes vaping weed beneficial to your health.
1.  Inhaling Less Smoke
Although marijuana smoke has never been linked to any lung cancers or heart disease, smoking can lead to decreased lung function. a 2010 study took 20 regular cannabis users that reported having minor lung issues. The participants noted that they were mainly experiencing shortness of breath and phlegm. After just 1 month of using a vaporizer they recorded an improvement in overall respiratory function.
We know that many long time cannabis users enjoy smoking a joint, or packing their pipe and we don't blame them. Although if you are feeling heavy in the lungs or congested, vaping weed may help you out.
2. Variety of Products
When it comes to flower, there are many different strains that have a wide range of effects. Certain vaporizers are geared towards dried flower, but most these days are made for concentrates. With concentrates we get a plethora of products from wax, shatter, distillate, oils, and hash. This creates tons of options for patients to pick and choose their desired medication.
In addition to having a wide variety of extractions to select from, plenty these days are lab tested for quality assurance and potency. Creating peace of mind for those who are hesitant on the safety of their cannabis.
Check out our shop for a variety of cannabis extracts and concentrates!
3. Instant Relief
Using a vaporizer is perfect for those who may need instant relief to pain, anxiety, nausea or any other illness cannabis may benefit. When ingesting cannabis in the form of an edible, the effects will last longer but may take up to an hour to kick in. For some that just isn't a viable option. At times instant relief is an absolute must.
THC is absorbed by our lungs almost instantly, and when vaping you can take small puffs until the desired effect is met. This allows us to medicate with a quickly and accurately.
4. Stealth Mode Activated
It's no secret that marijuana has a very distinct smell. And while most consumers enjoy it, those who don't partake may not be as inviting to the odor. Whether it's your work place that has strict policies or out of respect for another, vaping let's you medicate and not hesitate.
Vaporizing cannabis is virtually odorless, and with disposable vape pens that fit right in your pocket you can take your medicine on the go discreetly. Many face anxiety of being caught high or smelling like marijuana, vaporizing your cannabis is a great way to alleviate that anxiety.
Our store has a wide variety of vaporizers and concentrates. Enter here for our inventory!