When it comes to picking the best CBD vape pen for medicating on the go, people today have more choices than ever.
Cannabidiol, otherwise known as CBD, once is now sweeping across the world and slowly making its way into the likes of coffee, medication for cats and dogs in the near future, maybe even Starbucks!
Backed by science, CBD has been shown to deliver a variety of health benefits if consumed daily. Many will already be familiar with CBD topicals and tinctures, but what about CBD vapes?
While the public generally misunderstands vaping and vape pens as harmful to your lung health, this couldn't be farther from the truth. Vaping CBD has many benefits, including accurate dosing, ease of use and portability, to name a few. They're a great way to medicate on the go and are easy for anyone to start using.
However, picking the best CBD vape pen for your health objectives can be a difficult task. After all, there are just so many choices out there!
Today, we're going to go over our top 3 choices for the best CBD vape pen Canada to help steer you in the right direction. But before that, let's get into what vaping CBD is all about and why it's a great way to medicate with CBD!
Best CBD Vape Pen – How Does Vaping CBD Even Work?
When we want to feel the effects of CBD or THC, these cannabinoids have to enter our endocannabinoid system. Also known as the ECS, the endocannabinoid system is a naturally occurring bodily system that regulates the cannabinoids within our bodies.
Yes, this means that our bodies naturally have cannabinoids!
When we smoke weed, eat an edible or take a puff from a vape pen, we're introducing more cannabinoids into our ECS. These additional cannabinoids are responsible for the psychoactive and therapeutic effects of THC and CBD.
Smoking cannabis, eating an edible or using a vape pen are just some of the ways we can introduce additional cannabinoids into our bodies.
Vaping CBD works by vaporizing a concentrated form of cannabidiol (CBD) which the user can then inhale.
Compared to smoking, the benefits of vaping are that it's much healthier, accessible more portable.
For starters, vaping CBD instead of smoking it via a joint means that you're inhaling vapour instead of smoke. Smoke, whether it's from weed or cigarettes, will contain carcinogens, ash and tar. Although healthier than cigarettes, finding the best CBD vape pen that suits your needs is a better long-term solution if you're health-conscious.
Secondly, vaporizers, whether they're CBD or THC, are a lot easier to use than a joint or a bong. With a vape pen, you won't have to roll up a joint in order to medicate. You'll just have to take a puff and feel the effects instantly!
This also means that vaping will leave no smell or smoke behind. You can medicate in your room, in your office or even out on the street without drawing too much attention!
Finally, a CBD vaporizer will allow you to feel the effects instantly.
Don't get us wrong, tinctures and CBD edibles are a great way to medicate! 
However, since the edibles have to pass through your digestive tract and be metabolized by the liver, the effects can take upwards of an hour or more to kick in.
Related: Edibles vs Smoking Cannabis Differences for First-Timers
With all this being said, let's go into our picks for the best CBD vape pen and what you should look out for when picking one up for yourself!
Our Picks for the Best CBD Vape Pen
Distillate Vaporizer Pen Kit (Hooti Extracts)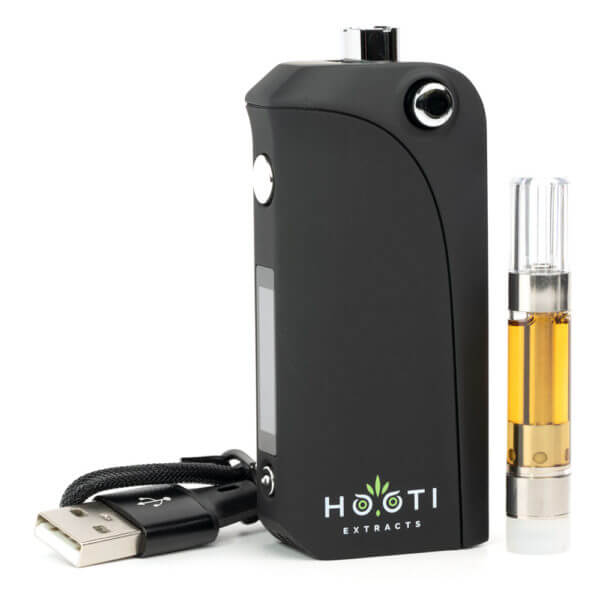 Hooti Extracts represents an evolution in modern wellness powered by the healing potential of cannabis. Established in 2017 and Based out of Vancouver, BC, Canada, Hooti Extracts has introduced a refreshing philosophy of quality meets authenticity to cannabis by offering a highly curated portfolio of premium and user-friendly products.
Hooti Extracts is a big name in the vaporizer game. Hooti's new CBD vape pen kit is extremely portable, accessible and easy to use. Their starter kit includes a vape pen battery with a retracting mouthpiece to help keep things sanitary, a gram of premium CBD distillate and a charging cable!
Here's why we love it:
Small, portable form factor
Rechargeable battery
Sleek, inconspicuous design
Variable temperature control for ideal flavour
Retractable mouthpiece
1 gram of premium Harlequin CBD distillate
0.5ml Ceramic Vaporizer Kit (Pyro Extracts)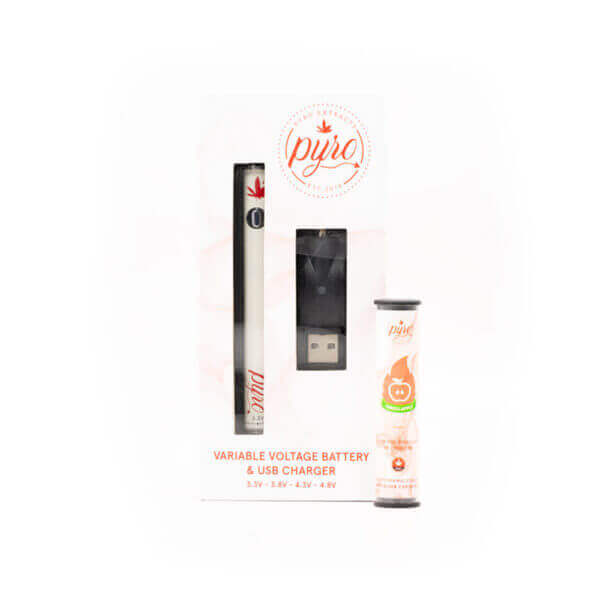 Pyro Extracts was born in the Canadian province of beautiful British Columbia, known for producing some of the world's finest cannabis. They believe that cannabis is a gift from Earth in which people worldwide use to enjoy, enhance and improve their lives. Pyro's Canadian roots run deep, and they're proud of the reputation for quality that Canada has developed for this plant.
Unlike other vaporizer companies, Pyro uses a proprietary cartridge design to maximize flavour and CBD potency. While other companies use metal cartridges with cotton wicks and glue, Pyro uses a 100% glass and ceramic cartridge that's free of harmful chemicals and pollutants. When you use a Pyro Extract vape, you'll taste nothing but the natural terpene profile of the original strain!
Pyro Extract's Vaporizer Kit is available in 3 CBD strains, including Penny Wise, Sour Tsunami and Trident!
Here's why we love it:
100% ceramic and glass cartridge design for maximum flavour and health
Rechargeable battery
Variable temperature control for ideal flavour
Strain-specific terpenes
Large variety of CBD strains
Vape Pen 250mg CBD (Culture)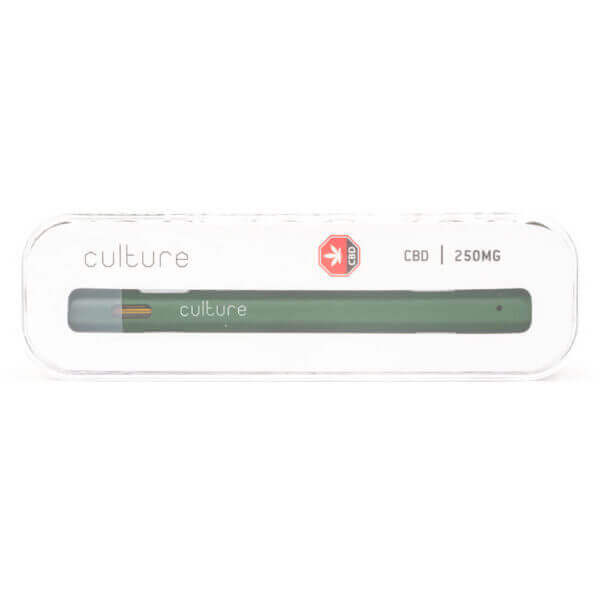 Culture's 250mg CBD Vape Pen is a great choice for medical patients who don't want any frills. Filled with an oversized reservoir of 250mg of premium CBD, Culture's vaporizer pen is designed to be discrete and sleek. With no battery to recharge, all you do is take a drag and enjoy!
However, this also means that if the battery were to run out, you wouldn't be able to use your vape! Also, this vape pen is designed to be disposable instead of rechargeable. Once you run out of juice, you can't buy a refill cartridge like the two vapes we mentioned above to keep using it. It's a "one-and-done" kind of deal!
With all that being said, this vape still packs some serious value. Including 250mg of CBD per vape pen at a very attractive price point, this could be the best CBD vape pen for those who don't mind spending a bit more money to throw away their vape instead of re-using it once it's done.
Here's why we love it:
Large quantity (250mg) of CBD distillate
Portable and sleek design
No charging required
CBD Vape Pens are the Best Way to Medicate
If you were on the fence about switching to a CBD vape pen to medicate, we hope that this article was able to shed some light on how they work and what you should look out for when you're looking for one yourself.
Everybody's health objectives will differ, which is why it's so important to find and pick a product that works for you. If you have any questions about these products or simply want some more product recommendations, be sure to visit our online dispensary Canada to talk to our support team! They'll steer you in the right direction no matter your inquiry.
Happy trails!