Cannabis NB is New Brunswick's premier, government-regulated dispensary. However, despite it being the face of weed sales within the beautiful maritime province, the dispensary has been struggling to make a profit since 2018 and even tried to sell its business to a private operator in 2020.
With so many financial hurdles and challenges facing the dispensary, it begs the question: what's going on with the Cannabis NB? Why are people not shopping at its stores and where are they turning to for all of their weed needs? 
The truth is, not all dispensaries are made equal. Even if they carry the same variety of products, their freshness, quality and potency may differ drastically. If customers can find a better, cheaper and faster alternative, it's only a matter of time before they make the switch themselves. 
Why is this the case? Why is Cannabis NB losing out to larger and cheaper online weed dispensaries such as Herb Approach? Should you be spending your hard-earned money at Cannabis NB vs Herb Approach? 
To answer these questions, we've taken the time to compare and contrast these two different dispensaries to help weed consumers get the best bank of their buck. 
What's the Problem With Cannabis NB?
To understand why Cannabis NB is facing problems, you first need to understand what Cannabis NB is.
According to their website, Cannabis NB is the only retailer of recreational cannabis for the province of New Brunswick, meaning it has total control of weed sales within the province. 
Don't get us wrong – new rules regarding cannabis sales are a win-win for everybody involved. However, the truth is that these rules can also set up unfair monopolies. The reality is that this monopoly on marijuana sales is like Titanic. It is large and may seem beautiful but still sinks.
If history has taught us anything, it's that monopolies are never good. 
Does it matter if Cannabis NB can sell weed in New Brunswick if it also means that it's the only place you can get weed products at? 
Monopolies such as Cannabis NB can have extremely high weed prices, lower their product variety and sell subpar products and there couldn't be anything that anybody could do about it. 
In fact, it's for these very reasons that Cannabis NB is hemorrhaging money and on the verge of being bought out by eight different competitors. 
So, faced with these unfair and not consumer-friendly options, what recourse do weed users in New Brunswick have?
The answer is MOMs.
Also known as a mail-order marijuana dispensary or an online weed dispensary, MOMs have been servicing Canada for literal decades. They have been the go-to choice for weed users across the country long before the government had the chance to implement their monopoly.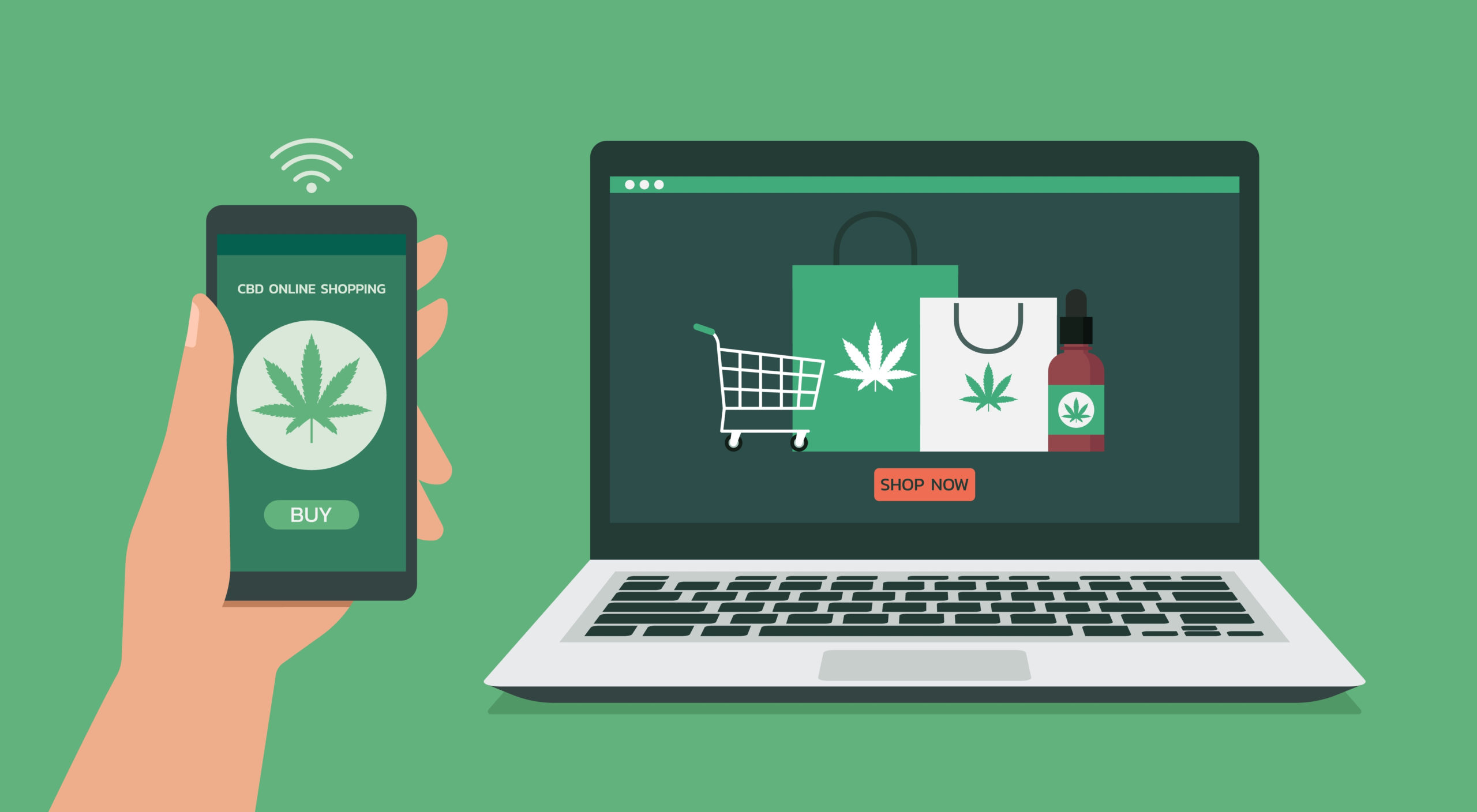 MOMs are online retailers run by experienced and passionate cannabis advocates. By working with legacy cannabis growers and producers, they're able to offer an unbelievably huge variety of products at near rock-bottom prices. 
And unlike Cannabis NB, trusted and established MOMs such as Herb Approach can deliver cannabis directly and discreetly to your door. 
If you're thinking about buying weed from Cannabis NB, it might be a good idea to think twice before spending your paycheque on some lacklustre bud! At the very least, you should continue reading to find out how the two stack up against each other before making your decision. 
Without further ado, let's get into it!
Herb Approach vs Cannabis NB – Where Should You Buy Weed? 
So, Herb Approach is a MOM dispensary, and Cannabis NB is a government retailer of cannabis.

What's next? 
While every weed consumer will have to judge dispensaries based on different criteria, we think that:
Product Selection 

Pricing 

Customer Support

are standard elements of a weed store that every weed consumer cares about. Customer support might not be as important for experienced tokers, but novice and beginner users will appreciate the support.

Let's see how Herb Approach and Cannabis NB stack up against each other! 
Product Selection
When it comes to product selection on the cannabis market, consumers are spoiled with choice. 
Today, we can choose between many products such as cannabis flower, potent concentrates, delicious edibles and more. 
Of course, customers also expect to find the same broad selection of cannabis products when they shop at government weed dispensaries. 
That being said, we are happy to announce that both dispensaries have a great selection of products not only limited to regular cannabis flower but also other products, too!
Both dispensaries offer a plentiful supply of concentrates, vape accessories, edibles and other cannabis paraphernalia.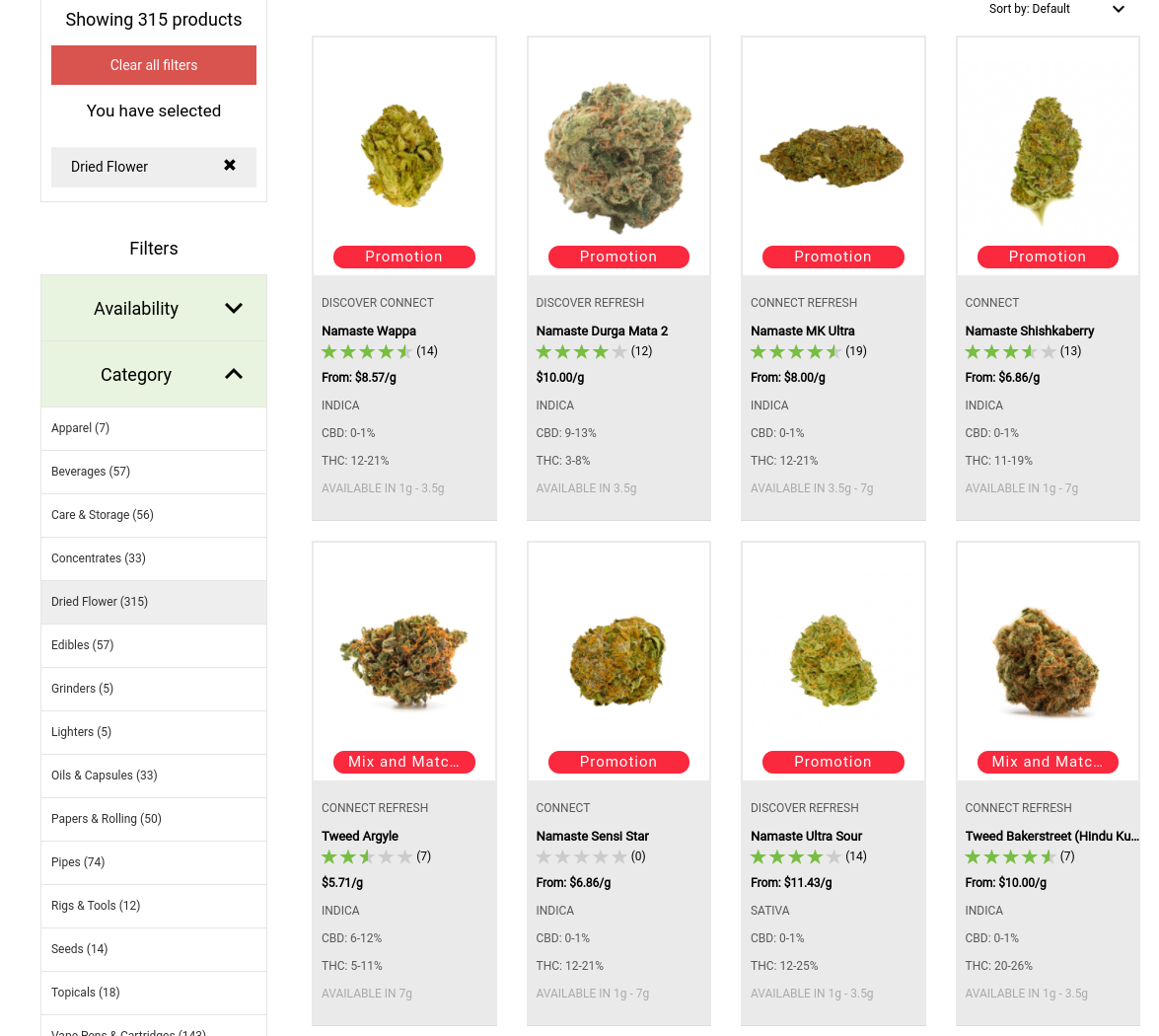 For instance, when it comes to cannabis flower, both dispensaries offer consumers more than 300 options. 
Cannabis NB beats Herb Approach in providing their customers with 315 strains while Herb Approach offers 308 cannabis strains, but only Herb Approach offers AAAA Craft Cannabis and Organic Cannabis.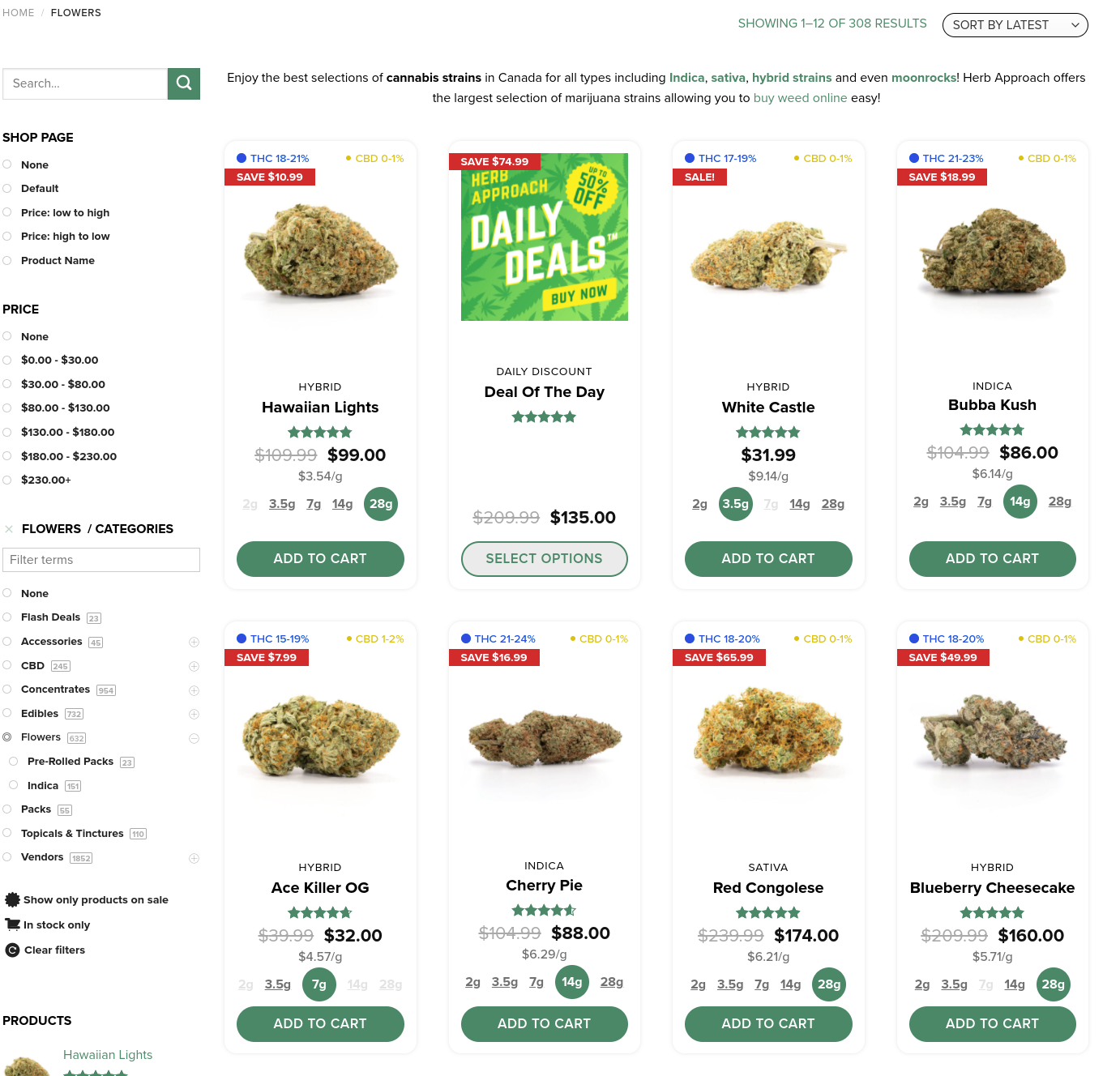 Craft Cannabis and Organic Cannabis might not matter to a large majority of cannabis users, but for those in the know, they'll be able to appreciate the difference in quality and experience. 
Both varieties of cannabis are grown in limited quantities in small batches with premium genetics. For government dispensaries such as Cannabis NB, who source their products from profit-driven corporations that focus on quantity instead of quality, such quality flower is almost impossible to find.
Of course, there will always be exceptions. But it's important to keep in mind that corporations will charge more for their "premium" products compared to legacy growers who're actually passionate about the weed plant. 
If cannabis flower isn't your thing, don't worry. Both dispensaries offer various edibles, concentrates and CBD products. Still, if we look at numbers, even those vary significantly. Herb Approach also offers 
While Cannabis NB offers 57 edibles to choose from, Herb Approach trounces this number by supplying customers with 487 different types of edibles! 
Cannabis NB's selection of concentrates counts down to 33, while Herb Approach offers 339 potent concentrates!
If variety is your favourite spice, then there's no better choice than Herb Approach. 
Pricing
Being the only one and small retailer in New Brunswick, it is going to be hard for Cannabis NB to compete with a giant such as Herb Approach. 
Not only does Herb Approach have a better product selection, but they also have better prices.
Here's a sweet deal for you.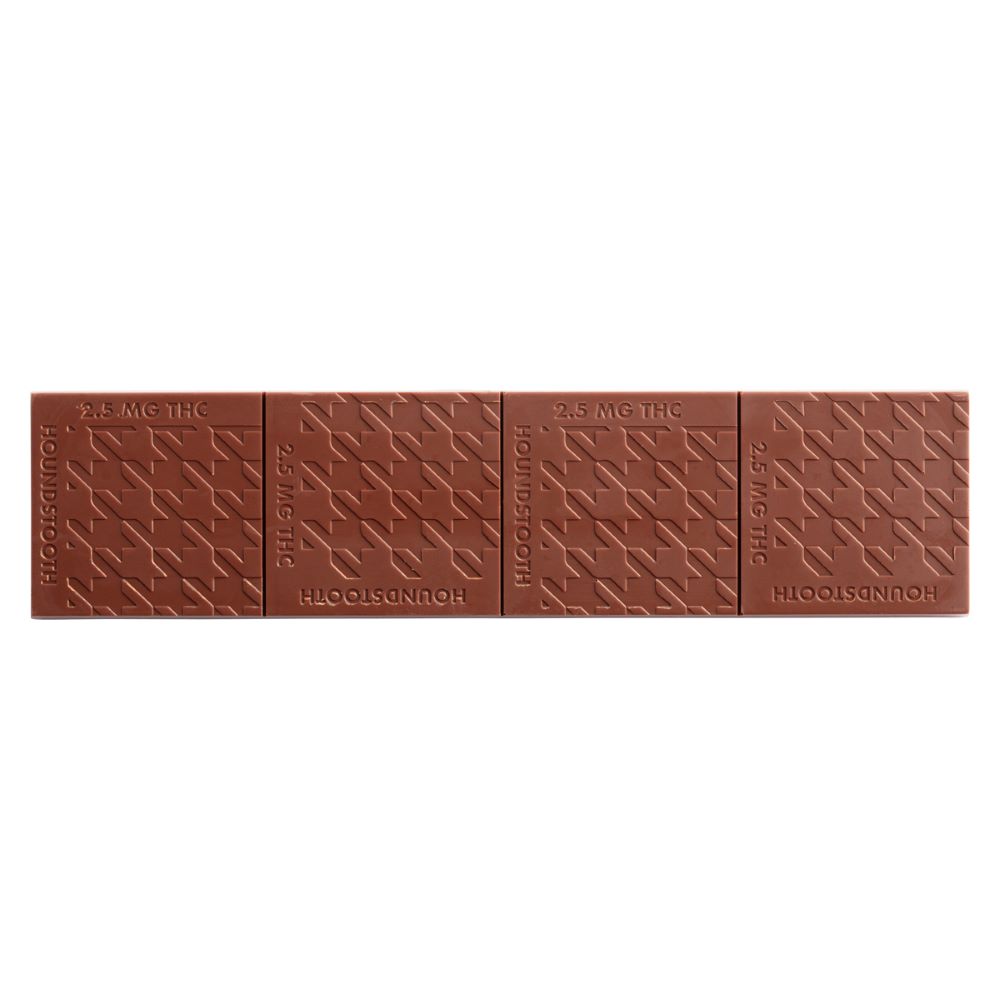 Let's say you want to buy some milk chocolate. From Cannabis NB, it will cost you $7 for 10mg of THC. Not so bad, right?
Alternatively, buying from Herb Approach will cost you $13 for 125mg of THC!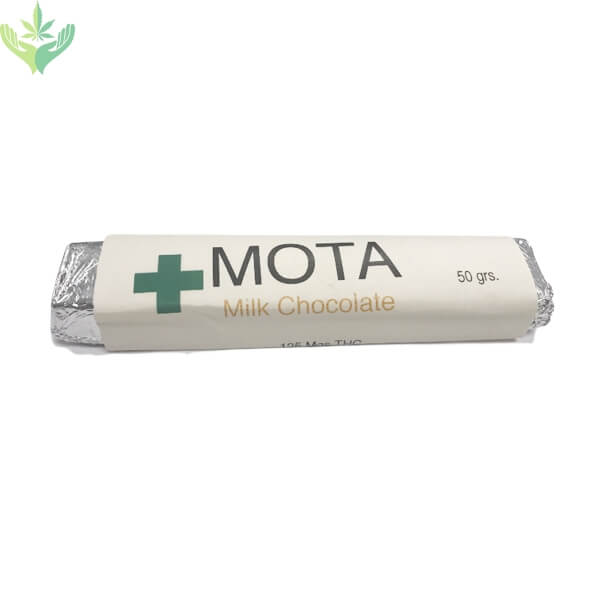 For only $6 more, you get 115mg of THC. In other words, you get way more THC per dollar for on Herb Approach!
Additionally, Cannabis NB doesn't have the option to collect points, meaning you won't get any discounts even if you're a loyal customer. On the other hand, Herb Approach provides its shoppers with different daily, weekly, mix & match and flash deals.

You can also accumulate different points when you shop with them. For every dollar spent with Herb Approach, you receive one point. For every 20 points, you earn a $1 discount to apply to any future order.
You also earn a free 500 point voucher ($25) just by signing up!

Money doesn't grow on trees. If you want to enjoy cannabis and cannabis products without breaking the bank, Herb Approach is better than Cannabis NB! 
Customer Support
Experienced and advanced cannabis users might not have many questions surrounding weed, but that doesn't mean customer support and service aren't important! 
If you have a problem with your cannabis product, it's unlikely that government dispensaries such as Cannabis NB will be able to support you. They simply do not have the manpower or knowledge available to help you get to the bottom of your problems. 
If there's a problem with your vape cart or if your flower is mouldy or filled with seeds, government dispensaries are likely to tell you to pound sand instead of actually offering you help. 
Not only that, but government weed retailers tend to close early as well. If you want to purchase a product or ask for assistance, you'll need to wait until the next business day to get service! 
On the other hand, Herb Approach offers live chat support Monday through Friday from 8AM to midnight! Whether you have product questions or concerns with your order, their prompt and knowledgeable support staff are only a click of a button away! 
In contrast with Cannabis NB, you'll be surprised to find that their contact page only offers a contact form and a corporate phone number. Even if you contact them, you're likely to be left high and dry! 
Cannabis NB – You Have Other Options!
While Cannabis NB is struggling to meet its consumers' needs, you have the option to order not only cheaper but better quality products and receive a great service.
In 2020, Cannabis NB achieved their first finally! profitable fiscal year, but it takes more than that to keep its customers loyal. 
If you want to spend more for less, Cannabis NB is a good option, as we've seen above. However, If you want high-quality, potent products at a great price while also having access to a great selection of your favourite cannabis goods, Herb Approach is the place to shop
Happy shopping!