You've probably heard tidbits of information floating around about CBD and cancer, but you've never landed on a definitive answer.
Perhaps, like so many, you've been left wondering, does CBD and cannabis truly help with cancer and its symptoms?
To clarify, while CBD shows some promise in treating cancer, as of yet, there is no evidence that it's a cure. But what we do know is that CBD can help with the symptoms and associated with cancer and side effects from the treatment such as anxiety, pain, lack of sleep or depression.
CBD's role in cancer treatment still needs more research, particularly because the legalization of marijuana is so slow to unfold. But what research is available is looking promising for side effects associated with cancer, rather than curing the disease itself.
So, let's remove the mystery around CBD for cancer once and for all.
What is CBD?
Cannabinoids are a group of compounds that comprise cannabinol and the active components of cannabis. CBD, or cannabidiol, is one of over 100 cannabinoids that can be found in hemp and marijuana.
By itself, CBD won't get you high, making it incredibly useful for patients who don't necessarily want the THC component that gives you that euphoria.
Cancer patients can take CBD oil in a variety of ways to benefit from the therapeutic effects.
Depending on what they prefer, there are non-invasive and very discreet ways to medicate.
Inhalation with a vaporizer or inhaler, ingesting CBD oil, capsules, edibles like gummies, or creams and balms are all options.
Essentially, there is a relationship between CBD and cancer. CBD is a powerful substance with a lot of medical potential, as you'll see next.
CBD and Cancer: The Science
At the moment, there are no definitive human trials that show that cannabis of CBD works positively with cancer patients.
But studies in animals have been conducted, showing (as you'll see below) that CBD can slow growth and the spread of some kinds of cancer.
On top of that, you're probably familiar with the idea that CBD can treat symptoms as a side effect of cancer.
But first, here are a number of animal studies that show various results of what CBD can do:
CBD has been shown to slow down cancer cell growth in several types of cancer, including breast, liver, leukemia, brain and melanoma.
For example, in this study, CBD was shown to reduce the spread of tumors and make liver cancer cells much less viable. This 2013 study concluded that the non-psychoactive CBD may be a potent inhibitor of both cancer growth and spread.
In a 2015 study, researchers showed that cannabis users have much lower rates of bladder cancer.
A 2018 study on pancreatic cancer looked at mice undergoing chemotherapy treatment plus using CBD to treat cancer. These treatments tripled the survival rate of mice and inhibited the proliferation rate of cancer cells.
Neuroblastoma (NBL) is one of the most common solid cancers in children. A 2016 study demonstrated the "anti-tumorigenic action of CBD on NBL cells" (translation: anti-tumour!)
Clearly, there is much research to be done on the link between CBD and cancer. But research is limited while the widespread use of marijuana remains so controversial.
Thankfully, there is a fair amount of research when it comes to how CBD can help with particular symptoms related to cancer, such as nausea, anxiety and pain.
CBD's Benefits: Pain, Inflammation and Neuropathic Pain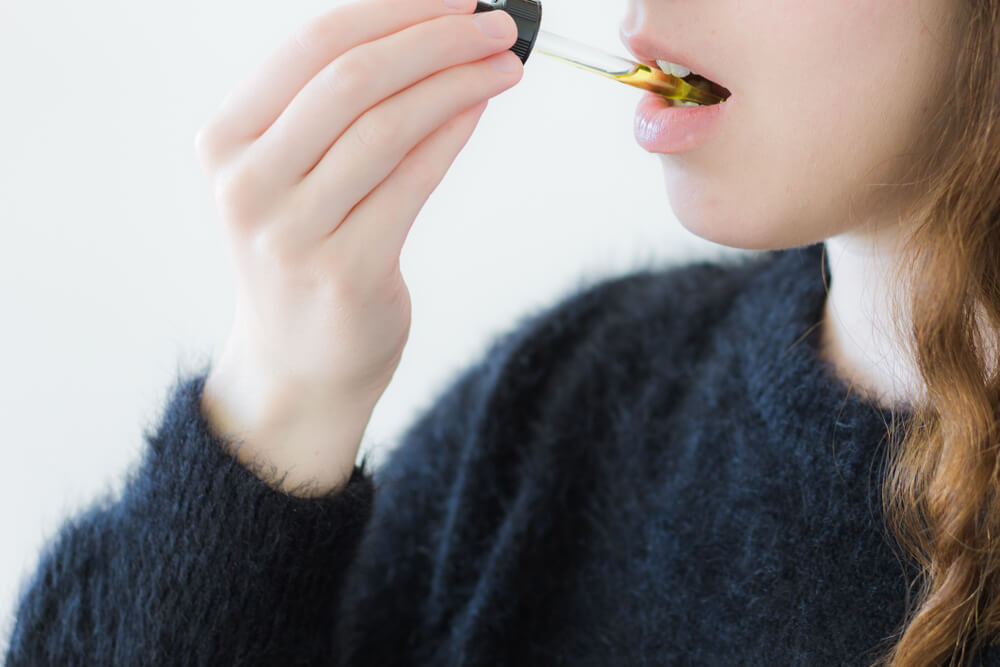 We all know that so many people turn to cannabis for pain relief. And it's no different for cancer patients who experience pain from the disease and treatment.
That's why this body of research is promising. For example, some studies show cannabinoids are modestly effective for relieving neuropathic pain and for pain in patients with malignant diseases.
At the moment, in terms of available cannabis treatments, patients have access to Sativex, a THC/CBD cannabis extract approved for advanced-stage cancer patients. Several clinical studies demonstrate the effectiveness of Sativex for treating neuropathic pain.
Other studies like these provide evidence that a combination of THC and CBD can be an effective therapeutic option for patients with neuropathic pain and other types of chronic pain.
But pain and inflammation are just a few of the many side effects cancer patients deal with. Another terrible side effect is nausea, which CBD can help treat as well.
Nausea and CBD
Recently, evidence from animal experiments suggests cannabinoids may be especially useful in treating the more difficult to control symptoms of nausea in chemotherapy patients.
With the discovery of the endocannabinoid system (ECS), studies have begun to research the potential of utilizing the ECS to treat nausea. This system helps regulate your body's day-to-day functions like temperature, appetite, sleep, pain and pleasure and reward.
Take this review that looked at the progress so far in understanding the regulation of nausea and vomiting by cannabinoids. Research suggests there's a link between the body's ECS and the areas of the brain controlling nausea and vomiting.
On top of that, this study looked at the regulation of nausea and vomiting by cannabinoids. And results indicated that cannabinoids, including CBD, may be effective for treating both these symptoms.
At this point in time in the US, there are actually 2 CBD treatments for treating these side effects:
Nabilone (Cesamet) is a synthetic drug that can be taken orally to treat nausea and vomiting when other drugs are insufficient.
Dronabinol (Marinol) is a gelatin capsule containing THC which is designed to help relieve nausea and vomiting caused by chemotherapy.
So, progress is happening slowly, but surely. Especially when it comes to the well-documented therapeutic effects of CBD for treating anxiety.
Anxiety and CBD
CBD offers a plethora of psychological benefits. For people with anxiety who can't gain relief from other treatments can turn to CBD oil as an alternative solution.
Research has revealed antidepressant, anti-anxiety and mood-regulating effects. This is life-changing stuff!
Take this 2011 study that reviewed people with a public speaking phobia. It found evidence that CBD may reduce anxiety and negative "self-statements".
Or a 2019 study that found that CBD enhanced 5-HT1A transmission in rats and reduced "anxiety-like behaviour."
Something like CBD oil may be a great option for people who can't tolerate the side effects of other medications for anxiety.
Can CBD Help With Your Condition? Visit Our Store For CBD Isolate, Tinctures and Topicals
Final Thoughts on CBD and Cancer
CBD is still far from being an official cancer-killing treatment. But all we can do now is continue pushing for cannabis legalization around the world.
We just hope as the world slowly accepts this plant, scientists will have access so they can continue unveiling the benefits of CBD for cancer.
Hopefully, after widespread legalization, we'll know for sure what CBD can do for eliminating cancer itself. In the meantime, we know it can provide some therapeutic relief from side effects.
If you're thinking of using CBD to help manage cancer or any of its side effects, make sure to talk with your doctor about whether it's right for you.