These delicious Chocolate Chip Oatmeal Cannabis Bars are reminiscent of a threesome between chocolate chip cookies, oatmeal cookies, and Mary Jane. Chocolate lovers will relish the extra layer of chocolate that runs through the center of each bar. The recipe utilizes marijuana-infused butter for medicinal purposes, and if you're unsure how to make it, you can refer to my How to Make Cannabis Butter tutorial.

These Chocolate Oatmeal Cannabis Bars are freezer-friendly! After baking, simply allow them to cool completely before wrapping each individual bar and freezing. When you're in need of a medicated treat, thaw the bar to room temperature and indulge at your leisure.
Chocolate Chip Oatmeal Cannabis Dosage
The recipe for these bars calls for marijuana-infused butter, which can be made using your preferred strain of cannabis. The butter is then combined with chocolate chips, oatmeal, and other ingredients to create a decadent bar that is not only delicious but also provides the medicinal benefits of cannabis.
One of the great things about these bars is their versatility. They can be enjoyed as a sweet snack or dessert, or even as a discreet way to medicate while on the go. And because they are freezer-friendly, you can make a batch and store them for later use.
Read: How to Make Cannabutter: Your Simple 5 Step Recipe
It's important to note that the dosage of THC in these Chocolate chip oatmeal cannabis bars can vary depending on the potency of the cannabis used to make the infused butter. The recipe provided in this article assumes an average potency of 10% THC in the cannabis and calls for 1/2 ounce of cannabis to make 1 cup of butter. However, it's important to adjust the dosage to fit your personal needs and account for the potency of your cannabis.
INGREDIENTS:

1 cup all-purpose flour
1 cup old-fashioned oats
1/2 tsp baking powder
1/2 tsp baking soda
1/2 tsp salt
1/2 cup marijuana-infused butter
1/2 cup brown sugar
1/2 cup granulated sugar
1 egg
1 tsp vanilla extract
1 cup semi-sweet chocolate chips
INSTRUCTIONS:
Preheat your oven to 350°F and line an 8-inch square baking pan with parchment paper.

In a medium bowl, whisk together the flour, oats, baking powder, baking soda, and salt.

In a large bowl, cream together the marijuana-infused butter, brown sugar, and granulated sugar until light and fluffy.

Beat in the egg and vanilla extract until well combined.

Gradually stir in the dry ingredients until just combined.

Fold in the chocolate chips.

Pour the batter into the prepared baking pan and smooth out the top.

Bake for 25-30 minutes or until a toothpick inserted in the center comes out clean.

Let the bars cool completely before cutting into squares.

Wrap each Chocolate Oatmeal Cannabis Bar square individually and freeze
Conclusion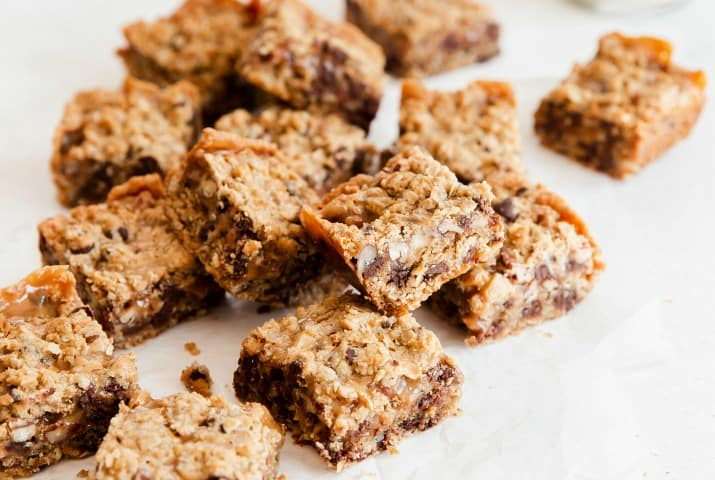 In conclusion, Chocolate Chip Oatmeal Cannabis Bars are a delicious and convenient way to enjoy the medicinal benefits of cannabis. These bars combine the flavors of chocolate chips, oatmeal, and cannabis-infused butter to create a treat that not only tastes great but also provides relief from various symptoms.
With a little effort in adjusting the dosage and potency, these bars can be enjoyed by cannabis users of all levels. So next time you're looking for a tasty and effective way to medicate, give Chocolate Chip Oatmeal Cannabis Bars a try!