Thanks to the legalization of cannabis, it's never been easier to shop for your favourite cannabis products, whether it be delicious gummies, potent distillates and concentrates or regular cannabis flower.
You can get your hands on organically grown cannabis and AAA weed, grab a tincture to go and even decide which terpenes you want in your cannabis products.
That being said, not all dispensaries are operated equally and give you all these fantastic options. While some honestly give you a vast selection of products to choose from, some are falling in this regard, providing you with poor selection, lower quality and not so good service.
But what to do, you may ask? Don't worry. We've got you covered!
Today, we will outline what you should look out for when choosing a dispensary. We'll look at some of the differences between two cannabis dispensaries, such as Ganjika House and Herb Approach, to make our point on why not all dispensaries are created equal.
Without further ado, let's get started!
What Makes a Good Dispensary?
Before diving deep into the differences between Ganjika House and Herb Approach, we should first explain what a mail-order marijuana service is because these dispensaries are not the same.
So, Herb Approach is a MOM dispensary, but what is a MOM anyways?
A MOM dispensary, otherwise known as mail-order marijuana dispensary, is an online store that bases its business on convenience, discretion and privacy.
In other words, mail-order marijuana stores allow their users to select various products and buy weed online without visiting a physical storefront location.
What's more, they often carry more products than an average licensed recreational cannabis store because they operate solely online.
Alternatively, Ganjika House is a licensed cannabis store meaning that they operate business both offline and online but only from a specific location.
That also means if you were to order some weed to another town or even province, they wouldn't be able to deliver it, unlike MOMs.
Now that we have defined what MOMs are, let's review a select set of criteria you should look out for when choosing between dispensaries and compare Ganjika House and Herb Approach based on those:
Product Selection

Pricing

Deals & Gifts
Ganjika House vs Herb Approach: Product Selection
Let's see what these two can offer us.
Upon first look, we can see that both dispensaries offer a good assortment of products, including dry flower, edibles, topicals and concentrates.
But let's delve deeper into those categories to review how many items fall under these different categories. We don't want to give a trophy to a loser, right?
Let's start with the basics. When it comes to cannabis flower, Ganjika House offers its customers around 175 strain varieties.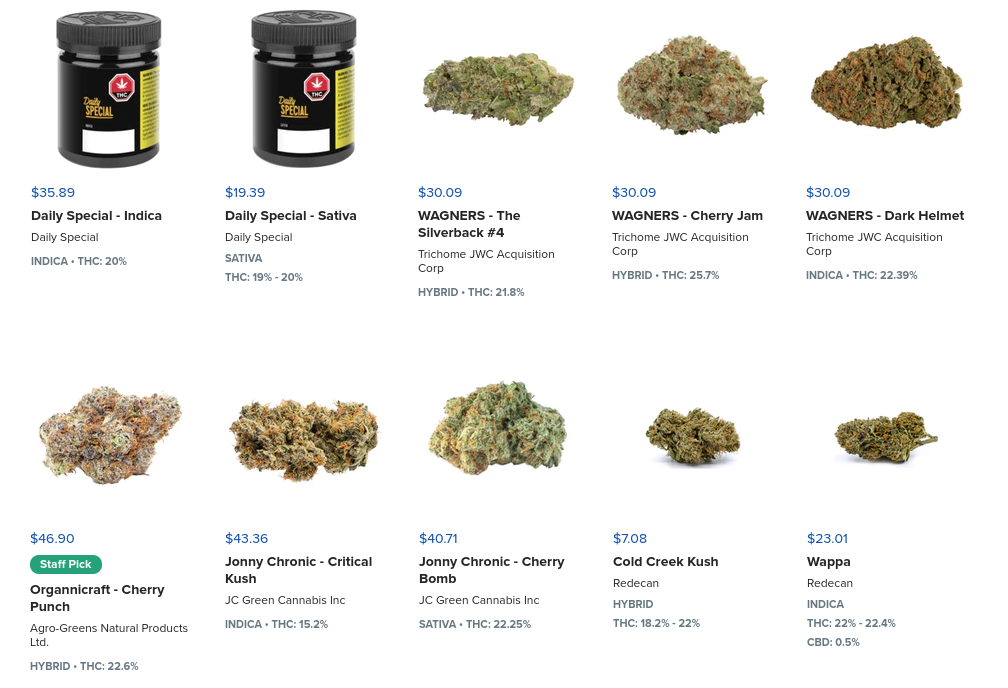 That is a great number of strains to choose from; however, this number pales in comparison to the Herb Approach dispensary, which offers almost twice as much as Ganjika House.
Herb Approach supplies more than 300 cannabis strains with extensive detail on each of their strains.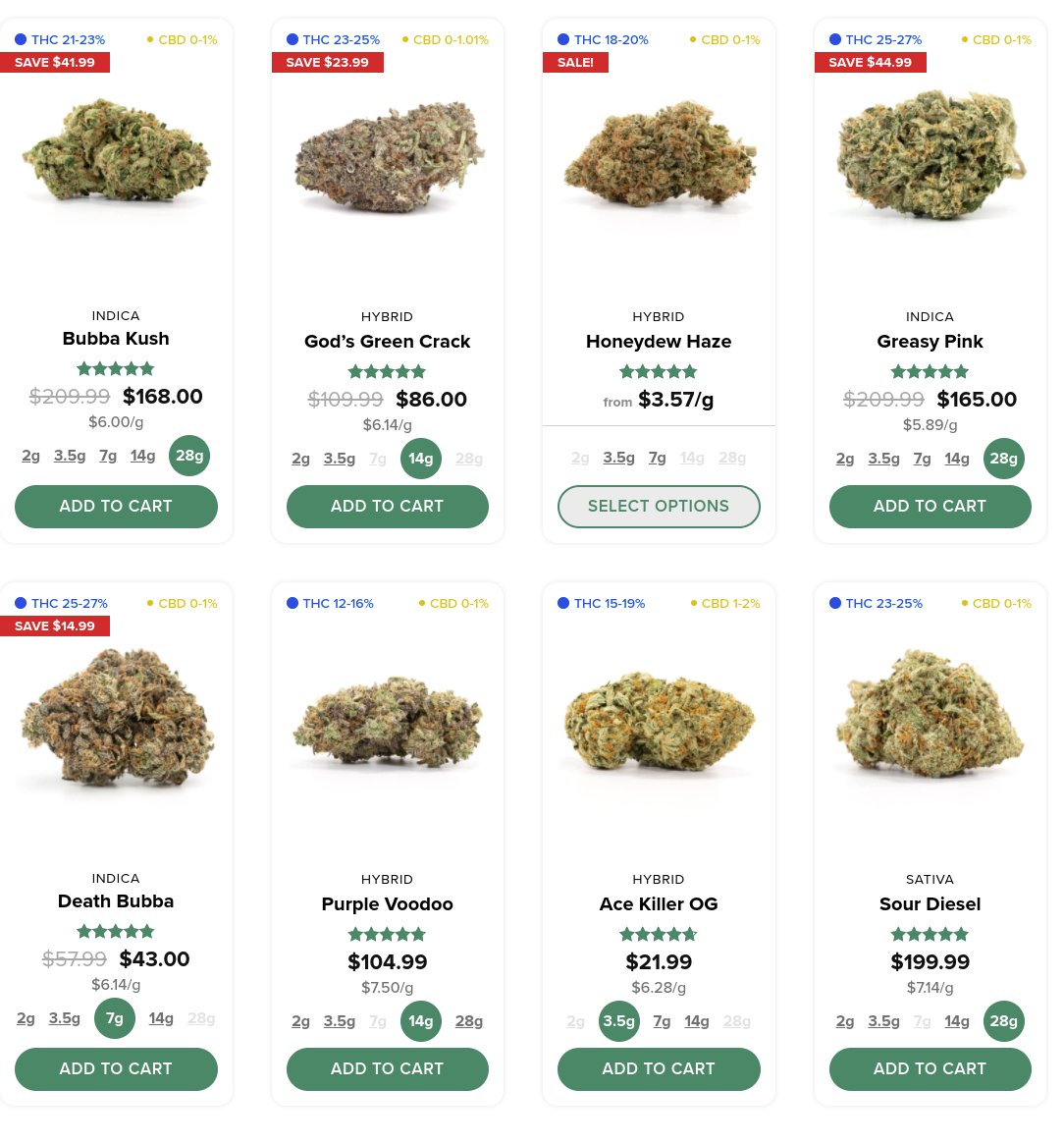 What's more, Herb Approach carries more than 300 concentrates while Ganjika House has only 30 concentrates to choose from.
Edibles are not different, with Ganjika House offering 80 edibles while Herb Approach has almost 500 tasty edibles and beverages for its loyal customers.
When it comes to CBD, Ganjika House has 25 items to choose from, while Herb Approach offers over quadruple that, with 100 CBD products.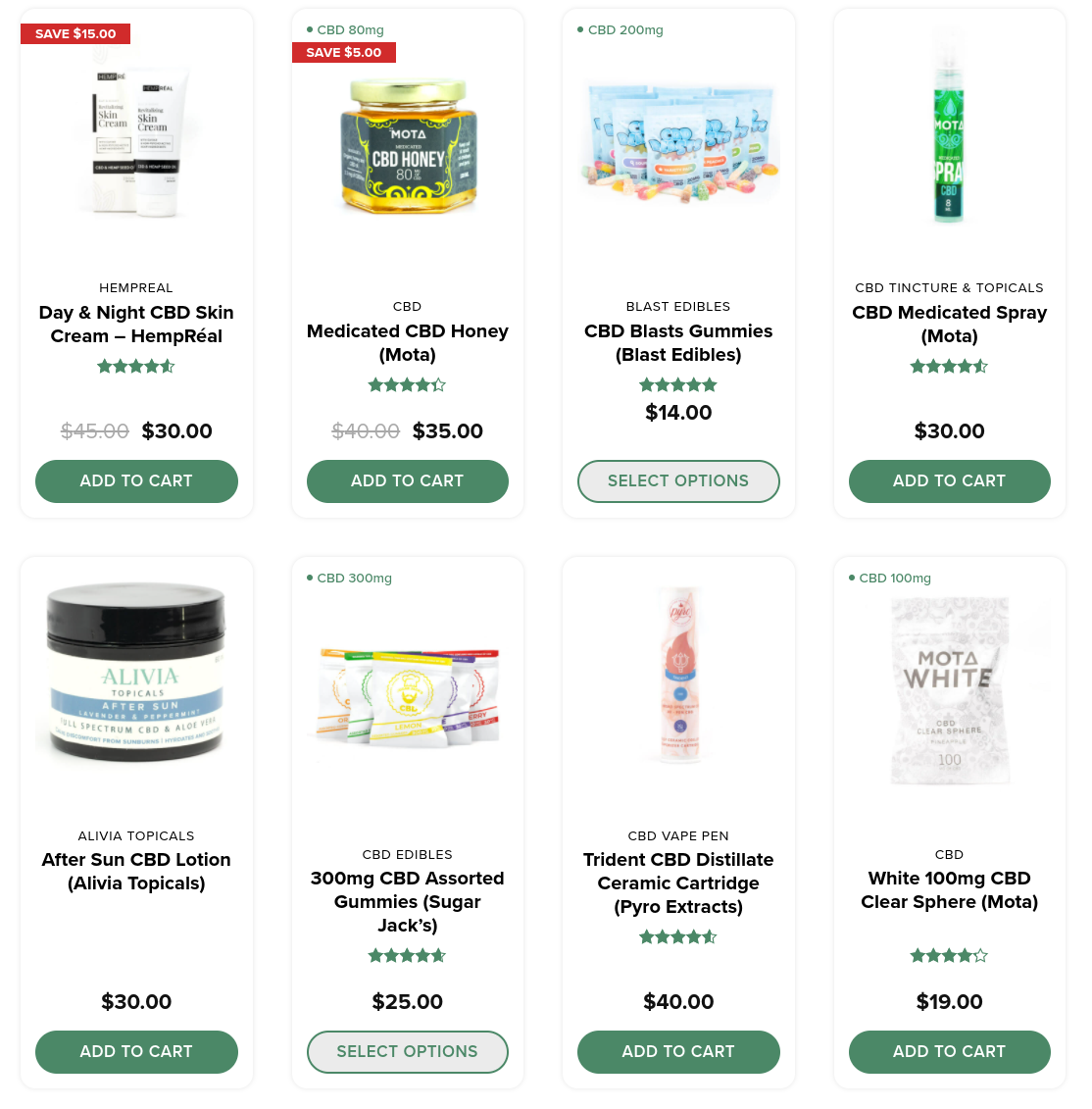 And the final punch? Herb Approach carries one of the strongest edibles in Canada, while the maximum THC that GH can offer is 10mg.
Well, you can see which weed dispensary is the winner here.
Ganjika House vs Herb Approach: Pricing
How shall we put it? You don't need to break the bank to treat yourself to some quality green. Otherwise, it's not a treat but a waste.
This is why it's so important to find good dispensaries that offer not only great prices but also quality products and services.
That being said, while Ganjika House might have reasonable prices on their products, it still can't compete with Herb Approach.
Here's why.
As we previously mentioned, the maximum THC you can get from Ganjiha House is 10mg.

Let's say you want to buy a bag of edibles of peach mango soft chews for $5.89. Looks like a good deal, right?
Now let's see what Herb Approach has to offer. Differentially, at Herb Approach, you can purchase a pack of 40mg THC gummies for (are you ready for this?) $5!
So not only do you get a better price but also way more THC for this cheap deal!
This proves further why MOMs are better for your weed needs!
Ganjika House vs Herb Approach: Deals & Gifts
When it comes to deals and gifts, this is where Herb Approach stands out a lot.
Unlike weed dispensaries such as Ganjika House, Herb Approach entices its customers to come back and shop for more products by providing them with different daily, weekly and flash deals.

In addition, they also have a point system that allows you to accumulate different points. For every dollar spent with Herb Approach, you receive one point. For every 20 points users get, they earn a $1 discount to apply to any future order.
You can also earn additional points, 500 points ($25), to be precise, by referring your friends.
Want more deals? Herb Approach offers free delivery for customers whose orders come out to or exceed $150.
If you are someone who appreciates good deals and wants to take advantage of exclusive offers, Herb Approach is your guy.
Now You Decide Where to Shop
We have outlined major criteria to look out for when choosing between different dispensaries.
You can now see for yourself that cannabis dispensaries are not operated equally and can't give all the products you want to get your hands on while being in the same market.
For us, the ultimate choice is the Herb Approach online dispensary. They put their customer's needs first by providing different deals, competitive pricing, superior service and fantastic product selection.
However, it does not mean that Ganjika House is a mediocre dispensary. It's just that out of the two, Herb Approach reigns supreme!