Green Society vs Herb Approach – where can you get more bang for your buck?
It's undeniable that stoners have more variety now than ever before and that accessibility and regulation make products easier to get and safer to consume.
Put more bluntly – pun intended – gone are the days of having to chase down a hookup with your weed guy or set up sketchy rendezvous with questionable characters just to get your hands on some marvellous Mary Jane.
With the dawn of weed legalization, tokers these days have greater peace of mind and flexibility to choose when, where and how they decide to get their items and consume their weed.
That said, while legalization is ultimately a good thing and something that the cannabis community has strived towards for decades, this doesn't mean that the new legal cannabis system and government dispensaries are without their flaws.
The government is still the government. A particular out-of-touch sentiment isn't hard to notice regarding its approaches to regulation and retail businesses compared to other already established dispensaries started by blazers for blazers.
This disconnect comes from these government-regulated businesses not being entirely immersed in the cannabis community or cannabis culture, promoting inauthenticity that may rub some users the wrong way.
Tokers are unimpressed with not just innately consumer-based things, such as product variety, but also the inherently different objective that these government dispensaries seek to achieve, focusing on profit instead of quality.
As such, many instead decide to take their business elsewhere and opt for retailers who understand them on a more personal level.
These dispensaries, operating within a sub-sect of the weed world known as the 'grey market,' are known as mail-order marijuana services or MOMs for short.
Why MOMs? Why You Should Buy Weed Online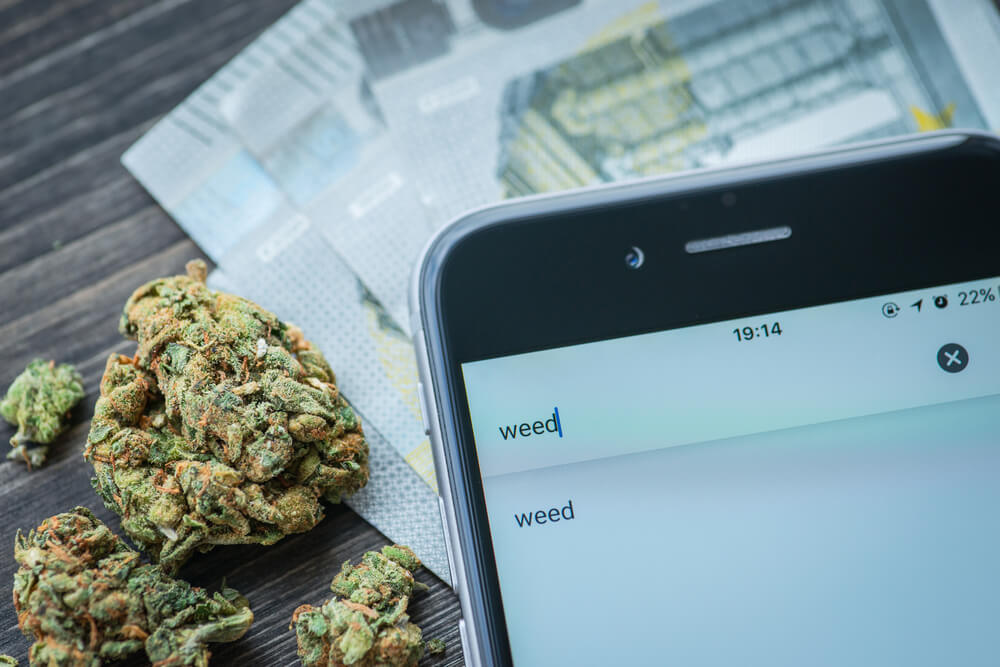 Mail-order marijuana services are created for tokers by tokers. In other words, the owners and staff understand the ins and outs of the cannabis community, the needs of tokers, and what customers actually want.
They better understand how to approach stocking their inventory, have better insight on potency levels, and provide more comprehensive customer support and service because they're consumers themselves!
Compared to government dispensaries, MOMs present a greater genuineness and legitimacy that users can trust. They have peace of mind that the advice and recommendations they receive come from vendors who have actual first-hand experience with the specific products they are selling.
Of course, there is also the convenience factor on top of the genuine, real-world expertise and experience.
One of the primary benefits of MOMs is right in the name, "mail-order."
Most government dispensaries require consumers to pick up their orders in-store, in person.
However, if you're a toker that lives in a geographically isolated area, this expectation is a bit far-fetched. Your address shouldn't dictate whether or not you should have access to cannabis products, and MOMs serve as a plausible, efficient and convenient solution for this problem!
Even if you don't live off the beaten track, some users simply don't want to draw attention to their cannabis purchases by going to a physical dispensary. MOMs offer a convenient yet discreet alternative.
However, all things considered, while MOMs occupy a special place within the broader cannabis market, by no means are we implying that they are all created equal.
Like with any other industry, there is bound to be competition.
With this in mind, we come to the topic of today's article. We'll explore two mail-order marijuana services, Green Society and Herb Approach, to illustrate this very point. 
We will compare them on the below criteria to reliably discern which provides the superior service:
Product Variety
Loyalty Programs
Reliability
That said, let's get straight into it!
Product Variety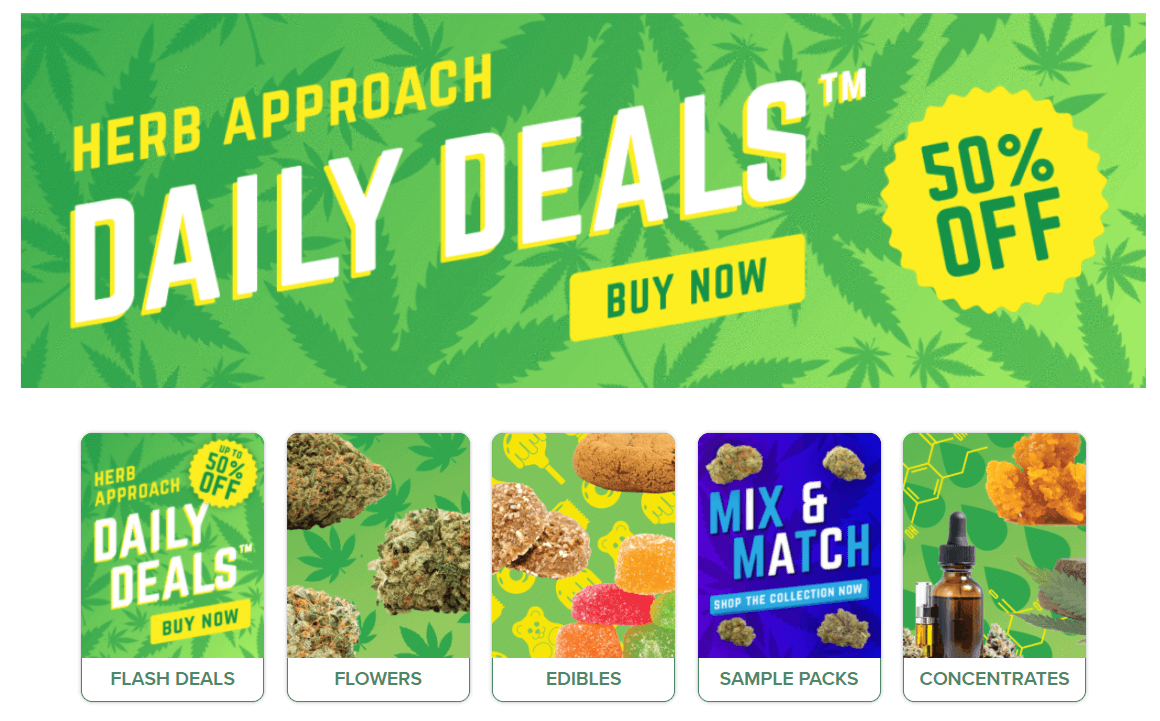 As we said before, there are innate consumer-based motivations for deciding which dispensary, or in this context, MOM, to choose.
After all, they are still retail businesses!
So, like any other industry, there will be strengths and weaknesses to each independent vendor.
When comparing Herb Approach vs Green Society, we are happy to say that both offer a decent number of different products ranging from standard cannabis flower to concentrates, edibles, vapes, and CBD.
That said, in terms of product variety and available options that fall under each category, one online dispensary has more items to buy weed online than the other.
In terms of dry cannabis flower, Green Society has 17 sativa strains to Herb Approach's 49, 41 indicas to its 83 and 54 hybrids to Herb Approach's impressive 118.
It is also important to point out that Green Society's flower inventory includes mix and match bags and trim and that the above numbers do not reflect the number of individual strains.
Whereas for Herb Approach's flower stock, it outlines different strains.
Herb Approach's product diversity also outperforms Green Society's in the other previously mentioned categories.
For example, Green Society has 109 available edible products compared to Herb Approach's whopping 452.
Additionally, compared to 46 cannabis concentrate options at Green Society, Herb Approach supplies customers with a substantial 545 different products to choose from.
While Green Society offers a wide range of cannabis and weed-infused products, Herb Approach provides customers with more overall variety, giving users the flexibility to choose from multiple options of the same product to suit their particular weed needs.
This product variation is likely due to the number of vendors that stock each MOMs inventory. In other words, Herb Approach can supply more product options because it has more vendors to provide the various items.
Green Society has 43 vendors, which, for a MOM, is a decent amount. However, Herb Approach is in a league of its own, with 100 different vendors under its umbrella!
More vendors mean more choice! It's as simple as that.
Loyalty Programs
While both Herb Approach and Green Society have a capable catalogue of cannabis creations for consumers to purchase, one MOM makes more effort to incentivize and reward consumers for purchasing its products.
Green Society offers new members an exclusive deal in the form of a "bonus gift" on their first order.
However, besides that, we weren't able to find any sort of loyalty program besides the standard discounts page.
On the flip side, Herb Approach offers multiple loyalty-based initiatives to keep customers coming back time and time again.
For instance, it has a creative points-based system that encourages tokers to stock up their stash to receive exclusive offers and discounts.
For every dollar that Herb Approach customers spend, they receive one point. Once they accumulate 20 points, they can get a $1 discount for a future purchase or even some free gifts! These points are redeemable on the MOMs' 'cart' and 'checkout' pages on the website.
Another example of Herb Approach going above and beyond to retain its customers is its inciting referral program. This program rewards customers for referring Herb Approach to their Friends.
When they sign up for a Herb Approach account, new customers receive a distinct referral URL unique to them. If they share this URL with someone who subsequently signs up for their own account, the original customer receives 500 points ($25) towards their account.
When their referral makes a purchase, they receive a $25 coupon coucher by email. But wait. There's more! Just when you think Herb Approach's deals couldn't be any sweeter, it also provides a free gift for users whose orders total or exceed $150.
Not only that, but Herb Approach also offers multiple discounts and deals in the form of daily deals and other special offers such as Mix and Match Packs and seasonal collections available on its website.

When comparing Green Society vs Herb Approach, customers can rest assured that Herb Approach gives back as much as it receives in terms of purchases.
Reliability
When you purchase goods or services, you want the peace of mind that the online reviews you read come from genuine, impartial customers, right?
Only then can you be sure that the specific product you're buying will actually suit your needs. In other words, receiving real-world insights from actual customers can be an incredibly valuable tool for other consumers to receive legitimate context on a business and its products from like-minded individuals with no ulterior motives.
This transparency is where Herb Approach and Green Society differ significantly.
Consumers want to know that they're purchasing from a retailer they can trust with customer insights that maintain a certain level of integrity and impartial information. So, a business having positive reviews may be reassuring, but if they're inauthentic, paid, or fake, does it truly represent the brand accurately?
If you're confused at this point, don't sweat it. We'll explain what we mean.
When clicking the 'Reviews' tab on the top bar of the Green Society website, you'll see that customers receive incentives for leaving reviews, including $1 for every review and $2 for reviews with photos. 
Call us skeptical, but are paid reviews ever entirely objective? The MOM also leaves links and asks users to review them on Trustpilot and Google, as well.
With this in mind, it's challenging at the least to determine whether the reviews on Green Society's website are authentic or reliable since it blatantly pays users to leave them.
You might think we're cynical, but such incentives leave a sour taste regarding the legitimacy of open and honest dialogue between customers, not to mention the potential misrepresentation through users not sharing their genuine thoughts because they're monetarily motivated.
So, while Green Society has over 8,000 five-star reviews, we're left questioning how genuine or authentic those reviews actually are with the greater context of knowing that they may contain tarnished or biased content based on incentives rather than actual experience or facts.
Herb Approach provides the option for users to leave reviews for its various products. However, it does not have a dedicated page of its website to try and entice consumers to do so, let alone provide incentives to convince them that they should.
In this way, we're more confident that the reviews are not only more representative of real customers and their honest feedback but significantly more sincere, candid and unbiased compared to those on the Green Society website.
Green Society vs Herb Approach – Presenting Pot Priorities
At the end of the day, trust is everything. If customers aren't entirely confident that the information they're receiving on any given brand or product is authentic, the integrity of the transaction is tainted.
When it comes to discussing Green Society vs Herb Approach, the answer of which is the superior MOM is pretty clear. Not only does Herb Approach offer more in terms of overall product variety, but it's also adamant that it honours and respects its customers.
You can see this sentiment expressed across its platform through its points-based loyalty and referral programs, as well as its authentic, transparent reviews from genuine customers.
Ultimately, any review that has an incentive behind it is already not as convincing. Green Society pushing users to leave reviews through monetary rewards and motivations leads us to believe that the opinions are not unbiased.
With all of the information we highlighted in this article, ultimately, the choice is yours regarding which MOM you should choose. We're just the messengers!
Have fun, stay safe, and enjoy!