With January coming to a close, the return to our daily hustle and bustle is back in full swing. If you're like us, the idea of whipping up a tasty post-work dinner in time to still enjoy the rest of your evening is a daunting and challenging one, especially if you want to be medicated during the experience! That's why today, we're going to show you how to make infused pesto!
Pesto is a dish that's near and dear to our hearts. And honestly, that should be the case for everyone, too! It's incredibly easy to make, relatively affordable, and incredibly delicious. It can be used as a sauce for a variety of pasta dishes, as a dip for your favourite chips, or even as a spread for your sandwiches.
Today's guide on how to make infused pesto will help you prepare a delicious, savoury pesto that's as delicious as it is potent!
And the best part of all? It can be made in minutes. So, without further ado, let's get started!
How to Make Infused Pesto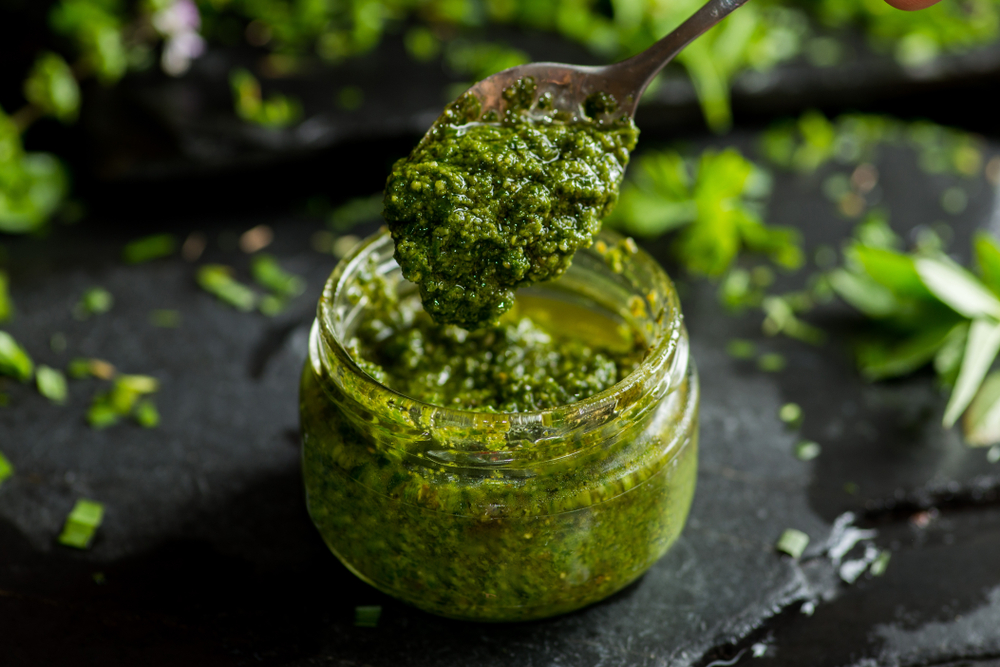 Ingredients
⅓ cup raw pine nuts, almonds, walnuts, pecans or pepitas
2 cups packed fresh basil leaves (about 3 ounces or 2 large bunches)
¼ cup grated Parmesan cheese
1 tablespoon lemon juice
2 cloves garlic, roughly chopped
½ teaspoon fine sea salt
½ cup extra-virgin olive oil
3.5 grams of cannabis
OPTIONAL – cannabis and olive oil can be subbed out for infused olive oil
Directions
(Optional) Toast the nuts or seeds for extra flavour: In a medium skillet, toast the nuts/seeds over medium heat, stirring frequently (don't let them burn!), until nice and fragrant, 3 to 5 minutes then pour them into a bowl to cool for a few minutes.
To make our infusion, we'll need weed. Cannabis has to undergo a process known as decarboxylation in order for the cannabinoids held within to get us high Slowly and lightly heat your weed in olive oil. The idea is to release the THC into the oil, so use a low setting so it doesn't burn. Let it simmer for low for about two to three hours while stirring to create cannabis oil.
If you use a dry herb vape, you can use your saved AVB to cut the simmering time down to half an hour. Alternatively, you can also use already infused olive oil instead to cut down on both smell and time! 
To make the pesto, combine the basil, cooled nuts/seeds, Parmesan, lemon juice, garlic and salt in a food processor or blender. With the machine running, slowly drizzle in your infused olive oil of choice.
Continue processing until the mixture is well blended but still has some texture, pausing to scrape down the sides as necessary.
Taste, and adjust if necessary. Add a pinch of salt if the basil tastes too bitter or the pesto needs more zing. Add more Parmesan if you'd like a creamier/cheesier pesto. If desired, you can thin out the pesto with more olive oil. If you're serving the pesto on pasta, you can thin it with small splashes of reserved pasta cooking water to bring it all together.
Store leftover pesto in the refrigerator, covered, for up to 1 week. You can also freeze pest – once frozen, transfer to a freezer bag, then you can thaw only as much as you need later.
Once you have the pesto, you can pour it over your favourite pasta. Then, add any leftover parmesan. Enjoy!