Infused slow-cooked rustic herb chicken. It's a mouthful, but we can guarantee that you're going to want to stuff your face with bite after bite of this incredibly easy, delicious, and potent recipe!
The weather is still cold and with the holiday season over, life is going back to full swing. If you have a slow-cooker or pressure cooker, then you'll know how handy they can be when it comes to preparing weekday meals. Even if you don't even have a good variety of ingredients, everything you put into the cooker can slowly get to know each other once they're in the pot.
This week, we're going to show you how you can make a delicious, infused rustic herb chicken in your slow cooker or pressure cooker with just a few ingredients. Here's how!
How to Make Infused Slow Cooked Rustic Herb Chicken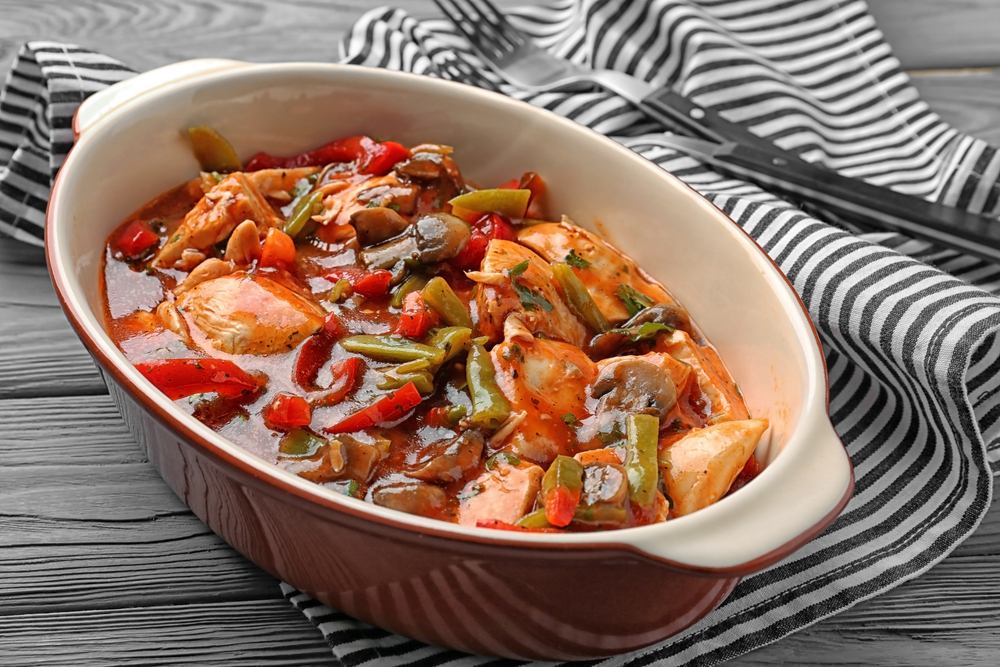 Ingredients
1 lb chicken thighs
1 stalk celery (chopped)
2 carrots (peeled, sliced into 1/2 inch rings)
3 medium-sized potatoes, (quartered) (optional)
1 lb cremini mushrooms (quartered)
1/2 yellow onion, (rough chopped)
1 lb stick of cannabutter
2 cups white wine
1/2 cup apple cider vinegar
1 tsp garlic powder or crushed garlic
1/4 cup basil
2 tsp chopped rosemary
Salt and pepper to taste
Directions
In a sautee pan or small sauce pan, heat up the weed oil to near smoking and sautee all the vegetables until they are slightly browned to bring a natural sweetness to the dish.
While your veggies are cooking, put the other ingredients into the slow cooker in preparation for adding the veggies.
Put the vegetables in the cooker with the rest, give it a good stir, put the lid on and let it get rolling.
Let it cook for at least 5 hours, more if you can. Slow-cooked meat will get harder before the collagen in the muscle breaks which allows for that lovely "shredded" or "pulled" meat to occur. This process takes longer with beef or pork, but it's good to let the chicken sit for a long time too. It's pretty hard to overcook in a slow or pressure cooker, just make sure you have enough liquid inside to keep everything moist.
Test your meat with a fork to see if it's done. It will flake and shred with ease if it's cooked enough.
Enjoy!
If you want a creamier, more potent experience, toss a stick of cannabutter into the bin once it's ready to eat and stir it around until it melts into the whole pot!