French fries are great. Whether it's breakfast, lunch, or dinner, fresh french fries are a great, crispy addition to any meal and are one of life's greatest guilty pleasures. It's hard to pinpoint exactly why these deep-fried, crispy potato spears are as tasty as they are, but their enduring popularity is hard to ignore. Today, we're going put a new spin on this old classic by showing you how to make infused yam fries.
We all love to eat french fries, but let's not split hairs about how harmful too much of a good thing can be for our bodies!
Fortunately, these yam fries are a healthier alternative to traditional spuds and are finished with an array of fancy garnishes to make this dish dinner party ready. Whether they're going to be served up as an appetizer for your next weed-themed party or a tasty medicated snack for yourself, these infused yam fries are going to be your new favourite, munchies or not!
How to Make Infused Yam Fries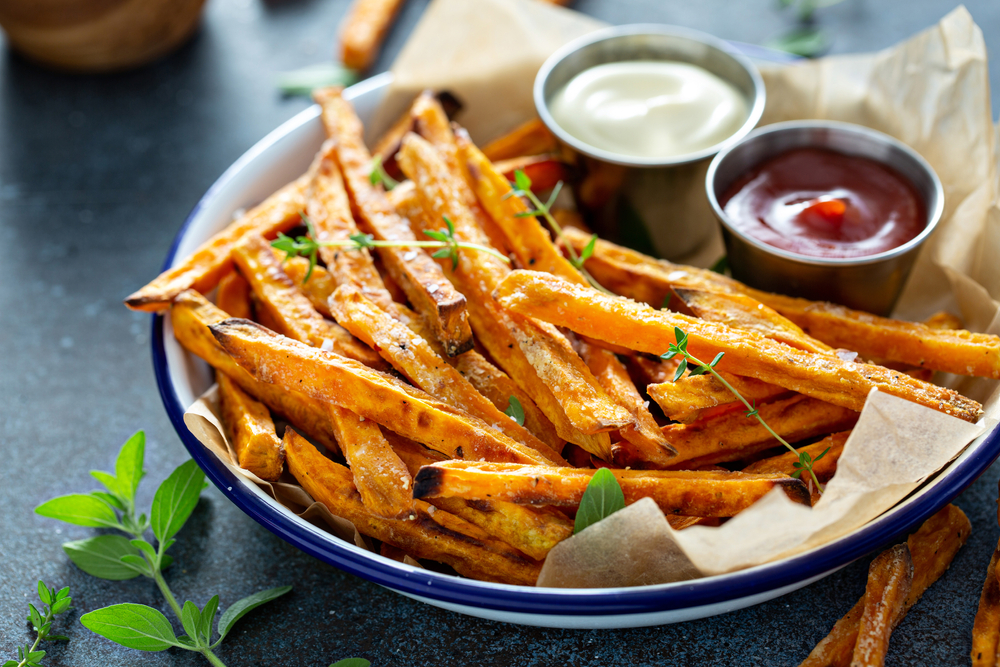 Ingredients
2 lbs of orange-fleshed sweet potatoes or yams
2 tablespoons cannabis-infused extra virgin olive oil (available here) 
¼ teaspoon sea salt
2 tablespoons flat-leaf parsley (chopped)
1 garlic clove (finely minced)
4 tablespoons parmesan cheese (grated)
Sheet pan/cookie sheet
Directions
To begin, preheat your oven to 235°C.
Next, rinse and dry all of your yams, leaving the skin intact. This will yield sweet potato fries with much more texture and beneficial nutrients. However, you can also peel your potatoes as well.
Using a sharp knife, carefully cut the yams length-wise into ½" strips.
After, cut each ½" strip into "fry-size" pieces, approximately ¼" thick and roughly 3 inches in length.
With your knife and cutting board are still out, finely mince the garlic clove and coarsely chop the parsley before setting them aside.
Next, place the sweet potato fries onto a sheet pan or cookie sheet and then drizzle them with the 2 tablespoons of cannabis-infused extra virgin olive oil.
Sprinkle the ¼ teaspoon of sea salt and toss the sweet potato fries to ensure even coverage and spread the fries out in a single layer on your baking sheet.
Place the cookie sheet into your preheated oven, and roast the sweet potato fries for 20-25 minutes, stirring with a spatula about halfway through the cooking process. You want your sweet potato fries to develop a nice golden-brown colour along the edges.
When the fries are finished cooking, remove them from the oven and allow them to stand for a few minutes.
While the fries are cooling, grab a large bowl and mix together your finely minced garlic, chopped parsley, and Parmesan cheese.
Finally, add in the warm yam fries and give them a good toss in the herbs and cheese.
Plate the infused yam fries and serve them immediately.
Enjoy!