Interested in learning how to make weed edibles? If you're on a path of practicing the cannabis kitchen arts then consider yourself one fortunate stoner, because when it comes to variety, cannabis recipes for making marijuana edibles don't fall short.
There are homemade gummy bears, yogurt shakes from the far ancient East, and of course, cannabis ice cream! Just to skim the surface, that is.
But it's not always about making edibles that are delish and not so nutrish, as there are plenty of edible recipes that also cover infusions for a wholesome lunch and dinner.
And, when you combine these factors with edibles being a much healthier alternative to smoking and vaping, your edibles experience provides the rare dynamic combo of:
Health, taste, healing and escape.
Not too shabby, right?
However, there is an issue — the options for cannabis recipes are endless and having a pleasant and fruitful experience requires experimenting with guidelines.
If you're interested in edibles consumption guidelines, check out our guide "What are Edibles? Guide for Dosing and Making Marijuana Edibles", along with our other edibles articles.
As for the endless marijuana recipes, here's our favourite (and constantly updated) list for practicing how to make weed edibles at home!
Note: Each marijuana recipe will have a link to the step-by-step guide in more detail.
How to Make Weed Edibles: Must-Have Cannabis Recipes
1. Cannabutter (Cannabis-infused Butter) Recipe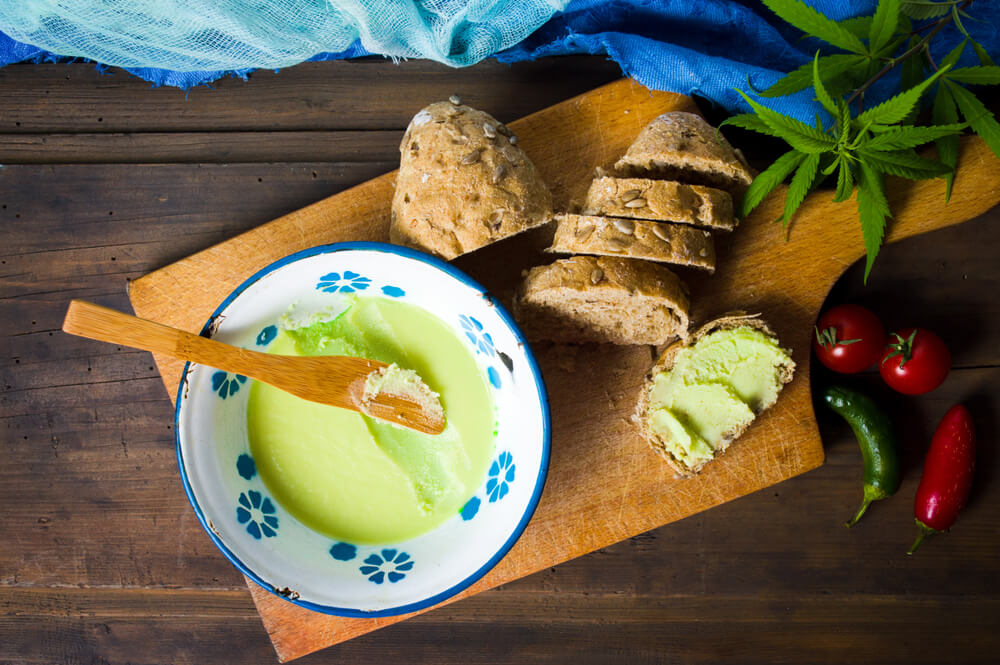 Dreaming of delicious edible recipes for weed chocolate chip cookies? Or for any butter-based snack or dessert? Well, before whipping up any of these, you'd need butter, that is, cannabis-infused butter.
Cannabutter is pretty much a staple for oh so many marijuana recipes so it's a good thing that whipping it up is extremely easy — here's a recipe that will have you making the finest cannabutter in 5 steps.
For this deliciousness, you'd need to put aside 3 and a half hours in total, but don't get discouraged as 90% of it is spent letting the butter simmer on the stove. In addition, you'll need 4 sticks of butter, 1 oz. of high-quality ground cannabis trim or bud, cheesecloth, coffee filter and a few other basic kitchen utensils.
At the end of it, you'll end up with an extremely versatile cannabis edible that'll last for at least 12 months when stored in the freezer in an airtight container.
Recipe: How to Make Cannabutter: Your Simple 5 Step Recipe
2. Canna-Oil (Cannabis-Infused Cooking Oil) Recipe
Like cannabutter, cannabis-infused cooking oil is the foundation for a variety of cannabis recipes that use regular oil in efforts to achieve psychoactive effects. For this easy recipe, the most time-consuming yet crucial step is decarboxylating your cannabis.
The time it takes from start to finish depends on what method you use. You can choose from 3 different approaches, either using a double boiler, a slow cooker or a saucepan.
If you're cooking using a double boiler, you're looking at an 8-hour marijuana recipe. On the other hand, if you're using a slow cooker, the time is reduced to roughly 4-6 hours. For an even speedier process, using a simple saucepan takes at least 3 hours.
So, which method is for you? Once you decide, you'll need a strainer, a grinder, 1 cup of ground cannabis flower and cooking oil to get going.
Recipe: How to Make Canna Oil for Cannabis Cooking in 3 Steps
3. Weed Chocolate Chip Cookies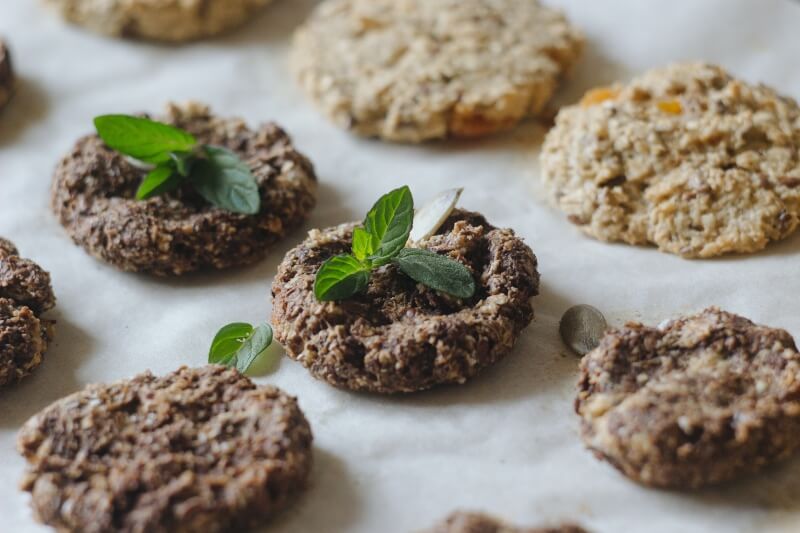 Weed cookies are a trademark of cannabis cooking, but it's changed throughout the years. Today, as the go-to formula of making a delicious batch now includes distillate or cannabutter, cannabis cookies are no longer the pungent, leafy tasting edibles your parents used to make, especially if you use this recipe.
So, this recipe does call for cannabutter, which we've included above. If you don't want to use cannabutter for these cookies, you can use regular butter and include THC distillate. After the butter, you need flour, sugar, chocolate chips, an egg vanilla extract, baking soda, and salt! Plus you'll have them ready to eat within the hour. Such a quick, easy, yet mind-blowing snack.
Recipe: How to Make Weed Cookies at Home in 60 minutes
4. CannaMilk (Cannabis-Infused Milk) Recipe
What're cookies without milk? That is, canna milk?
With a canna milk recipe, you'll not only have a perfect complement to your cannabis cookies, but you'll also enhance your cereal, smoothies, coffee, tea and juice with the trademark cannabis experience.
Beverages aside, canna milk can also be used as an ingredient for everyday dinners and snacks, from creamy broccoli soup and Alfredo mac and cheese to yogurt and more.
Making it is also straightforward — it's only a 5 minute prep time and about 1 hour and 20 minutes of letting it simmer in a saucepan.
Recipe: How to Make Cannabis Milk (Cannamilk)
5. Cannabis Ice Cream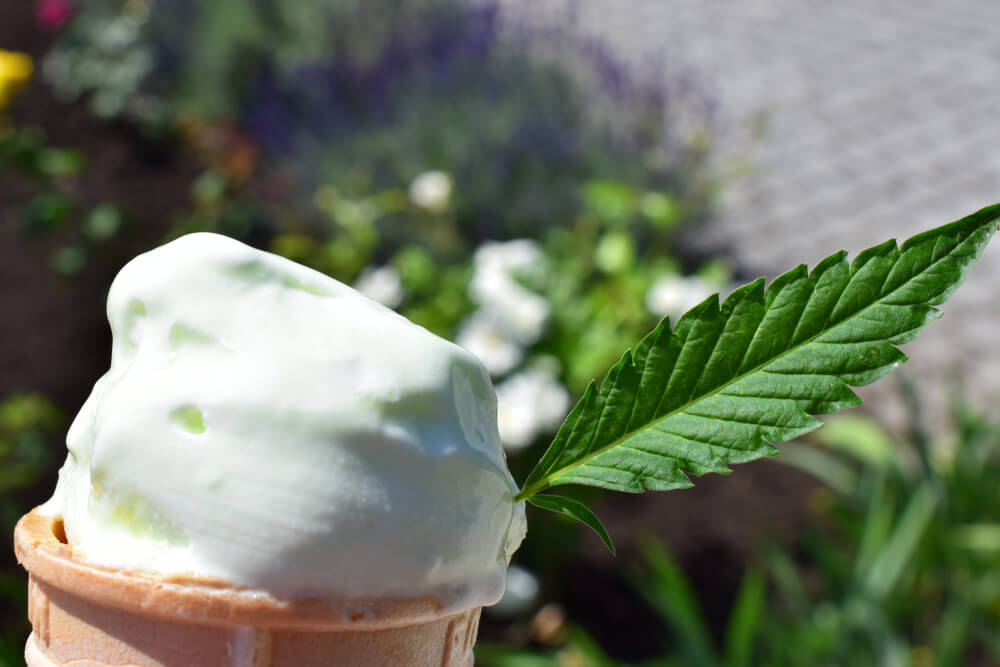 Ice cream is perhaps the most famous and celebrated dessert, but with cannabis, it's taken to levels of euphoric-like proportions. If you're interested in organic chocolate chip ice cream that's THC filled, here's a step-by-step recipe that can be of use whether or not you have an ice cream maker.
Whether you opt for the machine churning or hand stirring method, these initial steps are the same, but their total cooking time including prep time ranges between 6-8 hours, with a few hours taking place in the fridge.
Recipe: How to Make Weed Ice Cream That's THC Potent and Organic
6. Cannabis Gummies
What's a list without a batch of deceptively ferocious cannabis gummies? That is, Haribo cannabis gummy bears?
This recipe, when properly prepared, will not only tick every gummy bear box there is, but will also introduce you to the basics of how to make a cannabis tincture, given its step 1.
Once you have a tincture ready, you'll be using 3 teaspoons of it with extra ingredients like jello and corn syrup for a batch of 100 1-inch Haribo gummy bears. This recipe does take an entire evening, so make sure you plan ahead!
Recipe: How to Make Cannabis Gummies That Pack a Punch!
7. Cannabis 'Bhang' Milkshakes
Join India's ancient tradition by whipping a tasty cup of bhang thandai, a cannabis milkshake, with this recipe. To this day, bhang is a drink that is commonly sold during certain Hindu ceremonies and is associated with the Hindu god, Lord Shiva.
In a heroic tale involving the cannabis drink, Lord Shiva sacrificed himself by drinking a poison, only to experience extreme agony, which bhang miraculously cured. Tales go on to describe Lord Shiva using the drink to meditate, even achieving the title of 'The Lord of Bhang'.
Today you can branch out and try making your own bhang with crushed cannabis paste, milk, ghee, and spices as the key ingredients. This is definitely the easiest recipe on the list. You just need a blender, a bowl and spoon, a strainer and 20 minutes of your time.
That's it!
Making Edibles With Our Cannabis Recipes List Has Never Been so Easy
So you think you're really ready in learning how to make weed edibles at home? Well, with our marijuana recipes list, you're sure to make edibles that'll impress your friends and relatives next time you're having a weed party, or even, a gathering of any kind.
Just be sure to experiment with a lower dose and follow safety and responsible edibles guidelines!
Have fun and happy eating!
---
Image Credits:
All images taken freely from Unsplash and Pixabay