A cross between a pizza and quesadilla, this filling snack takes just a minute to cook in a microwave. Vary the recipe by using your favorite pizza toppings.
You can use either marijuana oil or decarboxylated dry ice kief or hash to medicate this recipe.
Microwave Marijuana Pizzadillas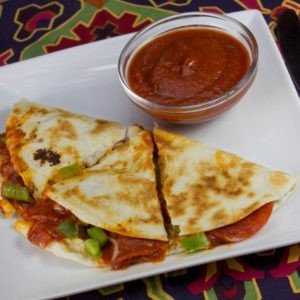 Equipment
Ingredients
Rolls
2 small flour tortillas
1/2 cup mozzarella cheese grated, or mix of mozzarella and Parmesan, divided
1/3 cup pizza sauce
1/2 teaspoon cannabis infused oil
OR
1/16 gram decarboxylated kief hash or BHO
optional ingredients:
1/4 cup veggies finely chopped, such as onion, bell peppers, or mushrooms
1/8 to 1/4 cup pepperoni or cooked sausage
Directions
Stir cannabis oil or concentrate into the pizza sauce until well combined.
Place a tortilla on a paper plate and spread ½ the cheese over the surface. Dot small bits of pizza sauce over the cheese.
Add what ever optional pizza toppings you like, finish with remaining cheese and over with second tortilla. Microwave on high for minute.
Cool for a few seconds before cutting into wedges.