"Thank you for calling OCS customer service, due to circumstances beyond our control, we are not able to take your call at this time."
These are the words heard by thousands of frustrated Ontario residents, who have ordered online through the OCS (Ontario Cannabis Store) after wondering where their orders have gone.
According to the Toronto news team, these thousands have yet to receive orders that were placed as far back as 20 minutes into legalization, along with any clarity as to the reasons why.
When asked by a reporter to rate the OCS's customer service on a scale of 1 to 10, a customer instantly responds with "0". "I literally haven't heard anything from them", he goes on to say.
Even more frustrating, many have reported pending transactions completely vanishing from their credit card statements, as if the orders never took place. And when consulting with credit card companies about the this, they're told there is no record of the order ever occurring, which means it was either cancelled or will be processed when shipped.
The situation is a big logistical mess for the Ontario Cannabis Store in other words, leaving many to turn to the black/grey market.
While interviewed about the black market, one customer succinctly puts it, "the customer service is 100% better than what I'm getting from the Ontario government, so absolutely, I'd go back.."
Frustrated Ontarians Resort to Social Media
Calling in to voice their displeasure was just one way for frustrated Ontario Cannabis Store customers to relieve the angst, as many of them took to Twitter.
Here are some of the comments via CityNews Toronto.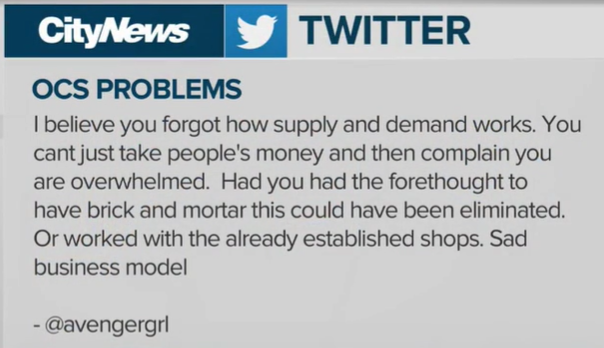 And, our favourite –
However, as much frustration as there is, some clarity does exist for Ontarians.
The OCS's homepage shows an alert stating, "complications are related to the current labour situation at Canada Post", which are expected to delay delivery times.
Canada Post is on Strike
Being the sole shipping carrier for the Ontario Cannabis Store, Canada Post employees officially declared a rotating strike as of Sunday evening, October 21st, after a new contract couldn't be reached.
Ontario was instantly affected, as the following Monday seen Windsor and Halifax employees walk off their jobs for 24 hours. Tuesday then seen the Greater Toronto Area's 9000 employees join.
In these cities, mail and parcels will not be delivered or picked up. And, if negotiations continue to show no progress, the union warns its rotating strike will unravel in other major cities.
At this point, you're probably thinking – "oh, so that's the cause for all the frustration."
But, is it the only reason?
We tend to think it's just one of them.
Canada Post is Just One Reason
The frustration experienced by Ontarians also stems from a complete lack of access to legal cannabis, as private retail stores won't be available until April of 2019, not to mention the lack of cannabis supply and products to choose from – although, a different topic.
There's also uncertainty as to whether the Ontario government can efficiently operate the province's only online channel to the needs of the most populated province.
However, it's not to say that e-commerce is foreign to the Ontario government entirely, because this just isn't so, given e-commerce delivery for alcohol was established in late 2016.
Instead, what could very well be foreign to governments is the use, need and reliance many of us have for cannabis – a scale and dynamic so very different from alcohol. As a result, leaving those in control extremely unprepared and/or lacking expertise.
But this isn't only confined to Ontario's government – it applies to all of Canada's.
Obviously, this shouldn't come as a surprise – because, we're walking on un-treaded territory in terms of cannabis access.
So, with that said, let's stay tuned and see how everything unfolds.
Thanks for reading, and feel free to leave comments.
And, as always.
Cheers.