Migos rapper Takeoff is dead after a shooting early Tuesday outside a bowling alley in Houston, a representative confirmed. He was 28.

The star was killed at a bowling alley where he was playing dice with his uncle and bandmate, Quavo, on Tuesday.

Takeoff — whose name was Kirsnick Khari Ball — was part of Migos along with Quavo and Offset. A representative for Migos, who was not authorized to speak publicly, confirmed that Takeoff was dead.
Houston police say they responded to the scene of a shooting in downtown Houston. At a bowling and pool hall around 2:30 a.m. local time. One person (Takeoff) was found dead, according to a tweet from the department.
The shooting took place at about 02:30 local time (07:30 GMT) on a balcony outside the 810 Billiards and Bowling Alley.
Police said 40 to 50 guests had been at a private party when someone opened fire. Security guards in the area heard the shots but did not see who fired the gun.
Two other people were injured and taken to hospitals in private vehicles, police said.
However, no arrests have been announced.
MIGOS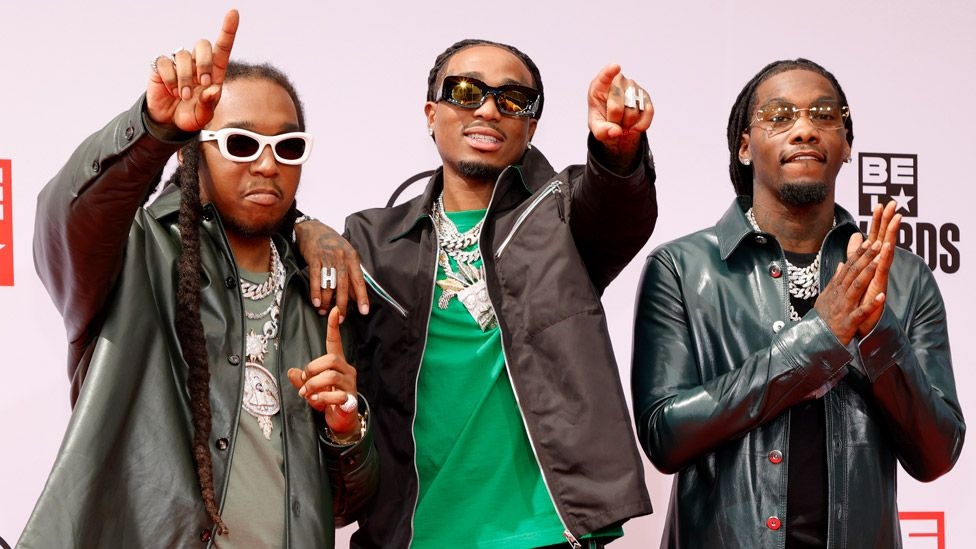 Migos were one of the most influential groups of their generation, pioneering a style of rapping in choppy, staccato triplets known as the "Migos flow"
The band, who split earlier this year, scored several international hits including Bad and Boujee, Versace and Walk It Talk It.

Takeoff and Quavo had been working together as a duo. In addition last month, the pair released a duo album, "Built for Infinity Links."

Takeoff was born in Lawrenceville, Georgia, in 1994. Raised with Quavo. his uncle, only three years older than him. By Quavo's mother Edna, he began rapping from an early age.
In his book Rap Capital: An Atlanta Story, Joe Coscarelli says that Takeoff "put the most early hours into the craft of rapping" of the three members of Migos. He was greatly inspired by Lil Wayne's rap group the Hot Boys, as well as Tupac, Biggie and OutKast.