Winnipeg police are warning parents to check their children's Halloween bags. After receiving half a dozen reports of THC edibles found in kids' Halloween Candy on Monday.

Candy packaged as "Medicated Nerds," with a label indicating that it contains 600 milligrams of THC, were found in sandwich bags that also came with full-sized chocolate bars.

Investigators say they have received at least a "half-dozen" reports of THC 'Medicated Nerds' Candy being found inside children's Halloween bags in the South Tuxedo area. For instance, the items were seen with regular full-sized chocolate bars inside individual ziploc sandwich bags. They were given out to children Monday night.

However, Winnipeg police Const. Dani McKinnon says there have been no reports of any children having eaten the candies.
She is encouraging caregivers to check children's Halloween treats if they haven't already.
"Look at all of the candy that you have, and if you see one of these items that are suspicious, contact the police," Based on the labelling, McKinnon said, it is not a product approved by the federal government.
"There's very specific information that must go on those authorized items," she said. "These particular candied items that we have seized do not meet those requirements."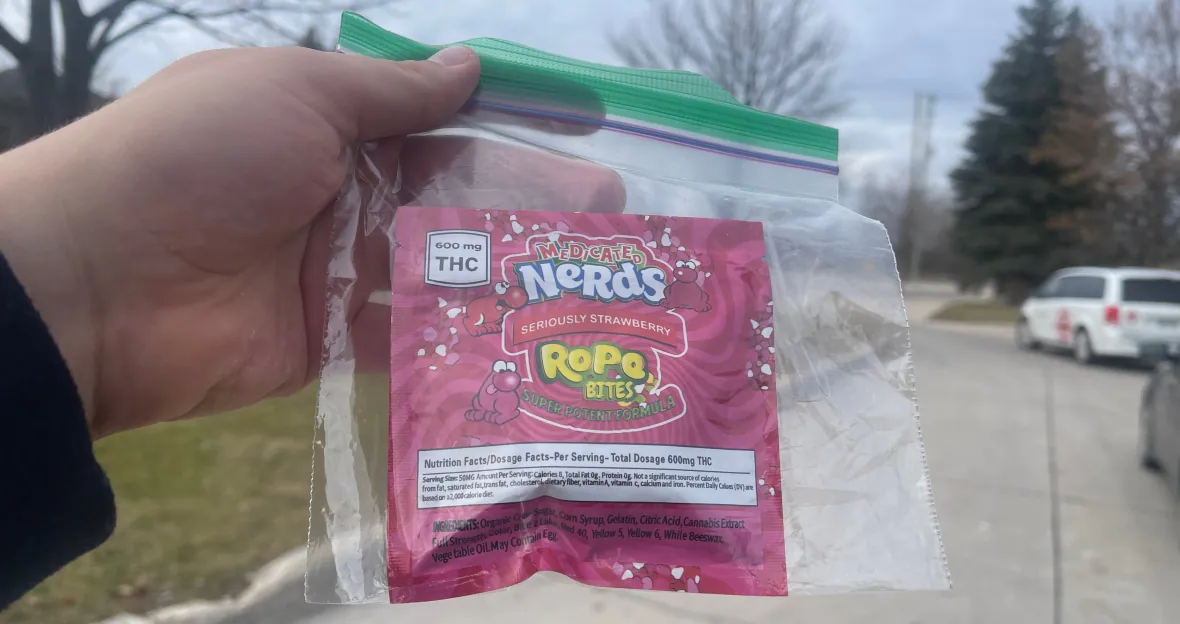 McKinnon furthermore, added that schools have also been notified.

The packaging should be "plain" and "child-resistant". Additionally packaging should, "reduce the attractiveness and appeal of cannabis products, particularly to young persons".

According to the final rules, it's prohibited to sell products that incorporate "colour or design that evokes a food product associated with young persons," or to sell a product that evokes, including through similar branding elements "popular toys or games related to young persons, sporting equipment or candies, etc."
Packaging for legal cannabis products also requires a Canadian cannabis symbol. Which does not appear on the image provided by police. As well as, a bilingual health warning and associated product information.

In conclusion, If THC edibles found in kids' Halloween Candy on Monday, please report it to local authorities.