Learn how to make delicious weed pancakes that are perfect for a wake and bake or camping trip. Pancakes are universally loved, and this guide will teach you how to make them with weed in a way that turns out great every time.
Weed Pancakes Tips
To ensure that your weed pancakes turn out fluffy and delicious, there are a few things to keep in mind. The batter's consistency is crucial to achieving the perfect texture, so aim for a thickness that is loose enough to pour slowly from a spoon or measuring cup. A whisk is ideal for achieving a smooth batter without activating the gluten in the flour.
It's also important to preheat your cooking surface to prevent sticking and undercooking. Medium heat is best, and wait at least two minutes before adding the first pancake. Grease the cooking surface lightly with butter or oil before adding the batter, even if you're using a nonstick pan.
Using a small measuring cup to pour the batter will help you achieve even portions and uniform-sized pancakes. Pour the batter from the middle and continue slowly in a circular motion to create round weed pancakes.
Read: How to Make Cannabutter: Your Simple 5 Step Recipe
Be patient during the cooking process and avoid rushing. Wait until the underside is a golden brown color and large bubbles form on the uncooked side before flipping with a spatula. Keeping the heat at medium-low is best to prevent the cannabis from getting too hot, even if the outside of the weed pancakes becomes toasty. The THC will remain active in the center of the pancake.
Weed Pancakes Toppings

Traditional pancake toppings also work well on weed pancakes.  If you need an extra dosage boost beyond what is in the batter, you can always top with additional cannabis butter.  Other toppings include:
Maple Syrup
Fruit Syrups
Apple or other fruit butters
Fruit compotes
Honey
Fresh fruit or berries and their juices, with or without whipped cream
Fruit pie fillings, with or without whipped cream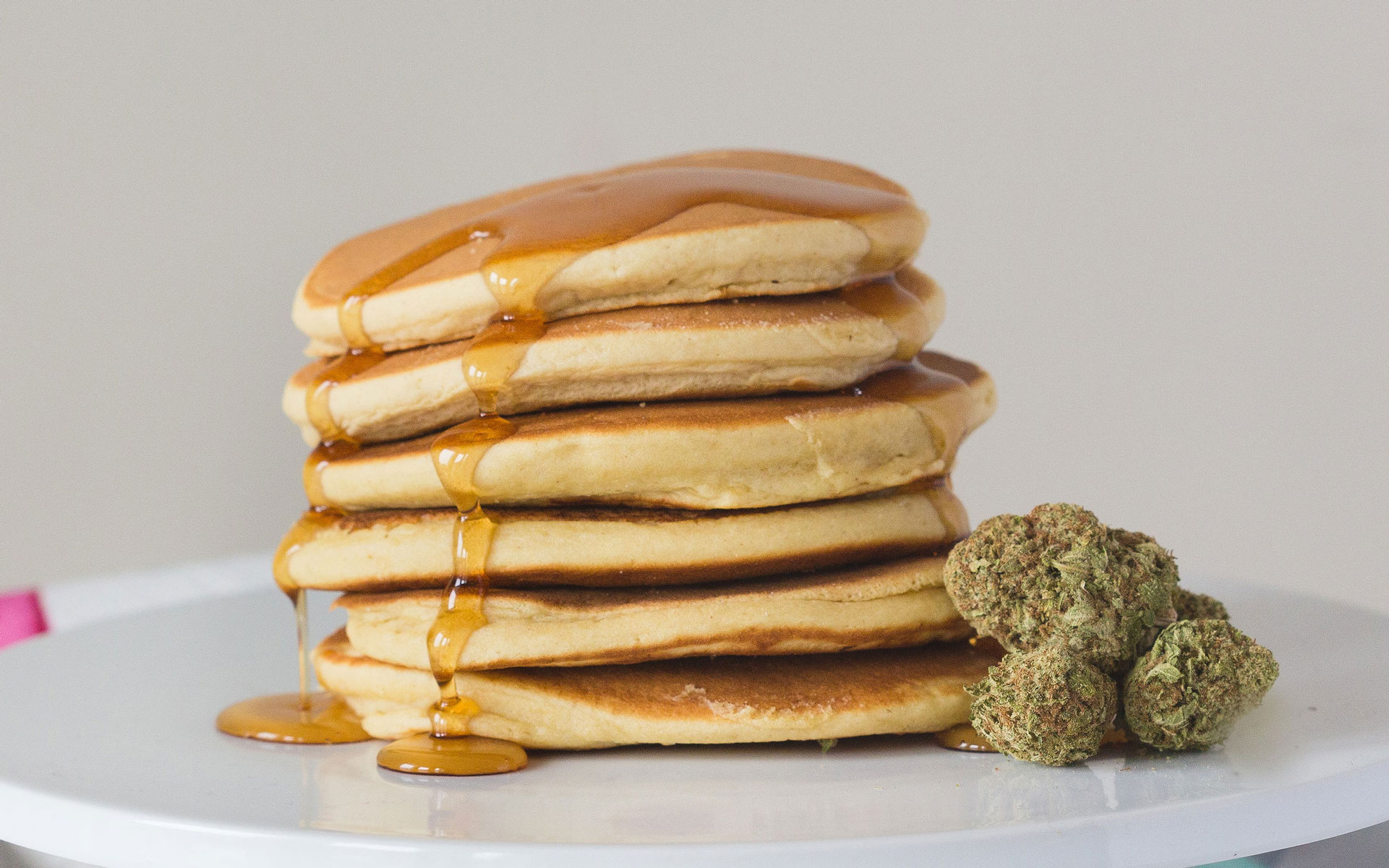 EQUIPMENT :
Stovetop

large pan or griddle
INGREDIENTS:
2

 

cups

 

flour

 

all-purpose

1/4

 

cup

 

sugar

 

granulated

4

 

teaspoons

 

baking power

1/4

 

teaspoon

 

baking soda

1/2

 

teaspoon

 

salt

1 3/4

 

cups

 

milk

 

preferably whole

1/4

 

cup

 

cannabis infused butter

 

melted

2

 

teaspoons

 

vanilla extract

1

 

egg

 

large
INSTRUCTIONS:
Combine flour, sugar, baking powder, baking soda, and salt in a large bowl.
Create a well in the center of the dry ingredients and add milk, melted cannabutter, vanilla, and egg.
Use an electric mixer or whisk to mix the ingredients until smooth and well combined. The batter should be thick but still pourable. If it's too thick, add a tablespoon of milk at a time until it reaches the desired consistency.
Allow the batter to rest while you heat a griddle or nonstick pan over medium heat.
Once the surface is hot, coat the bottom of the pan with butter. Use a 1/4 cup measuring cup to scoop out the pancake batter onto the greased surface. Use the back of the measuring cup to help spread the batter.
When bubbles start to form on the surface of the batter, use a spatula to flip the weed pancakes. The underside should be golden brown. Cook the remaining side for a minute or until it's also golden brown. Serve the weed pancakes hot.