What's better than weed and waffles? How about weed waffles?
With a crispy exterior and a soft, fluffy interior, Belgian waffles are a universally loved breakfast food. Available to be enjoyed with a classic drizzle of Canadian maps syrup or a wide variety of garnishes and toppings such as berries, cream, and even ice cream, Belgium waffles are a breakfast food that you can truly make your own, even if you love to wake-and-bake!
Today, we're going to show you how you can whip up this medicated recipe for weed waffles that'll help make your morning (and the rest of the day) a-ok!
How to Make Weed Waffles – Infused Belgian Waffles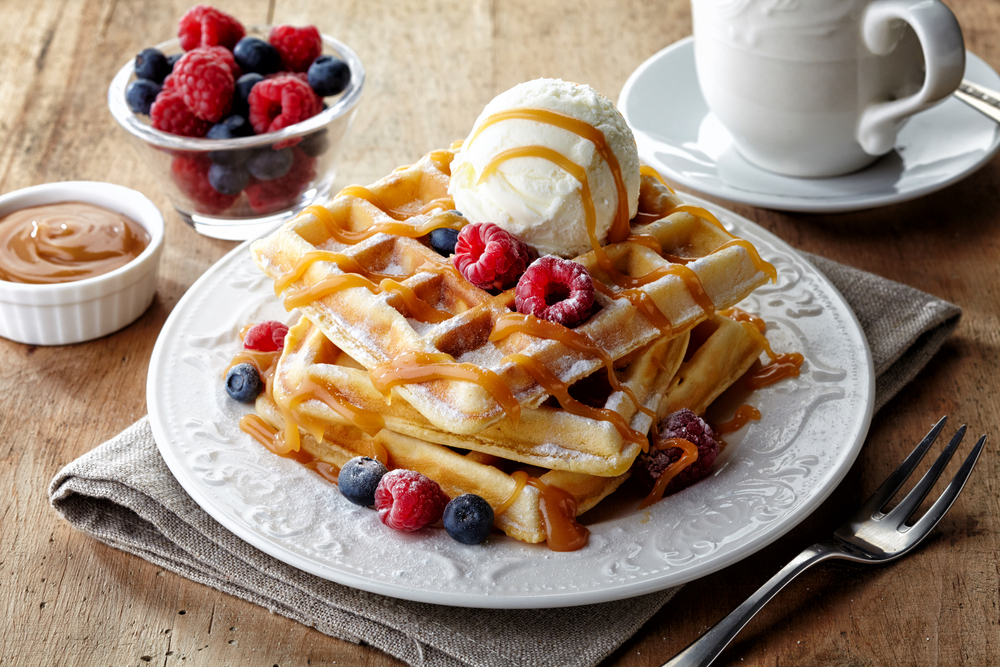 Ingrdients
2 cups unbleached all-purpose flour
3 teaspoons baking powder
½ teaspoon salt
¼ cup sugar
1½ cups organic whole milk
2 whole egg yolks
1 tablespoon + 1 teaspoon organic pure vanilla extract
4 tablespoons salted butter (melted)
4 tablespoons cannabutter (melted)
4 whole egg whites
Optional: weed oil to fry the waffles in for an extra medicated kick!
Optional garnishes: pure maple syrup, butter, a dusting of powdered sugar, fruit, nuts, ice cream, chocolate syrup, etc.
Directions
Preheat your waffle iron to the regular/standard setting.
Next, in a medium-size bowl, sift together 2 cups of flour, 3 teaspoons of baking powder, ½ teaspoon of salt, and ¼ cup of sugar.
After, grab a clean, larger bowl and add 1½ cups organic milk, 2 egg yolks, and 1 tablespoon plus 1 teaspoon of pure vanilla extract. 
Then, whisk the wet ingredients together until they are well combined.
Next, in a small saucepan, combine your 4 tablespoons of salted butter and 4 tablespoons of cannabis-infused butter. Turn the stove-top on low and melt the two butters together.
Once the two butters are melted and combined, remove the saucepan from the heat.
After, slowly add the dry goods into the large bowl containing the wet ingredients – combine the dry with the wet in small amounts, stirring after each batch until well combined.
Next, pour the melted cannabutter and regular butter duo into the batter. Mix the waffle batter well once more to thoroughly combine.
In a new medium-size bowl, beat the egg whites with a whisk or electric mixer until stiff peaks form.
Once peaks have formed, slowly fold the whipped egg whites into the waffle batter and mix until the batter is just barely combined.
(OPTIONAL) Wipe or spray the surface of your waffle iron with a few spritz of infused olive oil for an even more medicated kick! 
Scoop the batter into your waffle pan in small batches, and shut the waffle iron.
Cook the waffles until they are a deep golden-brown, and somewhat crispy on the outside!
Remove the waffle from the waffle iron, and serve immediately with your choice of garnishes.
Enjoy!