When it comes to buying weed online, the days of meeting up to buy some questionable kush from your friend's sister's ex-boyfriend's cousin are long gone.
Today, it's never been easier, convenient or safe to get your hands on some affordable and dank weed!
While nationwide legalization has been in effect for a couple of years now, it doesn't mean that government-owned and operated dispensaries aren't without their flaws.
Many within the cannabis community believe that these establishments are somewhat out of touch and don't yet have a firm grasp on their consumers' genuine needs and expectations. They're pricy, have dry flower, and often don't even have the potency that experienced tokers want to get high.
In most instances, this inconsistency and lack of understanding lead many tokers to seek alternative retail options, most commonly in the form of mail-order marijuana services, widely known as MOMs.
Still, not all MOMs are equal, and there are specific characteristics that distinguish them from one another. With this in mind, it can be challenging to know which is the best to choose to restock your stash.
So, what's there to do? We've got you covered!
Today, we'll be breaking down two specific MOM services, Cheeba's and Herb Approach, to fill you in on the factors that differentiate the two retailers to help you make an informed decision of which will better address your weed needs.
This article will compare them based on a select set of criteria:
Website
Product Variety
Deals & Point Systems
So, with this in mind, let's get started!
Website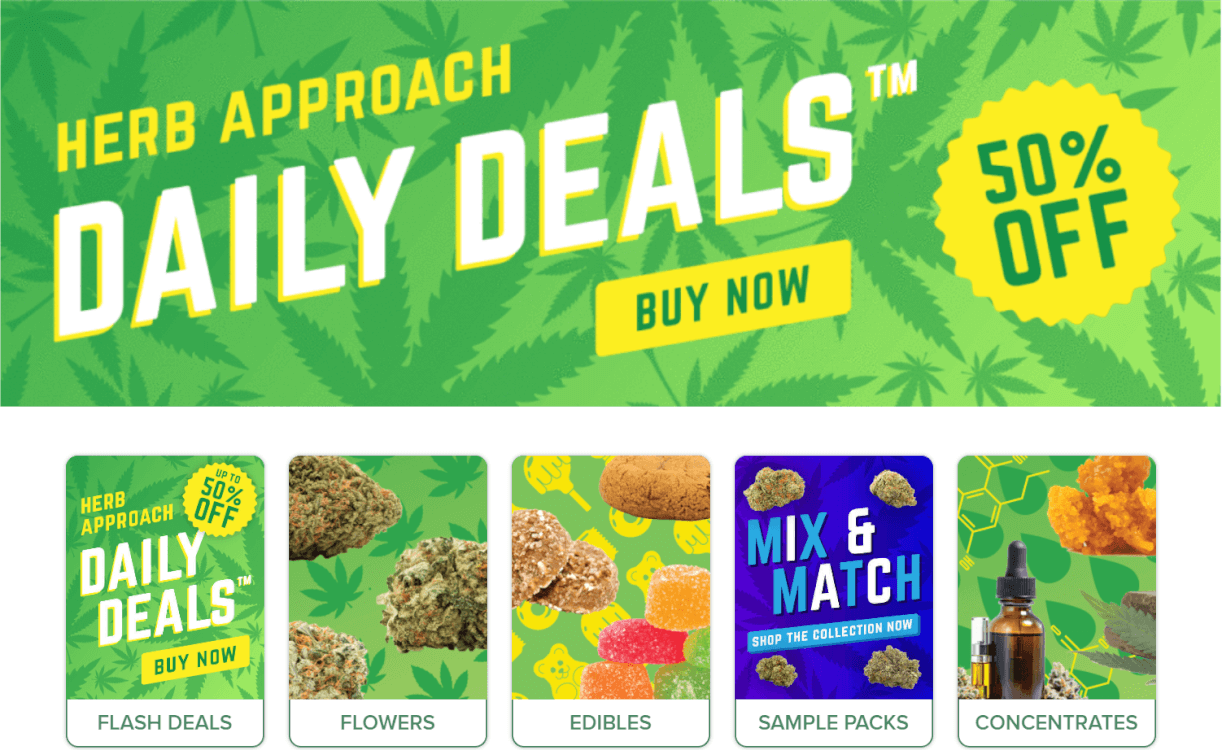 As MOMs existing in the digital age, both Herb Approach and Cheeba's have dedicated websites that users can visit. Each website outlines the various products that they have available, as well as links to their weed blogs.
However, Cheeba's website is a bit more challenging to navigate. By hovering a mouse over the 'products' link, users can see a list of the various items available for purchase. That said, the text itself appears crowded, and it may be challenging to differentiate the headers from the sub-categories.
On the other hand, Herb Approach's website has a clear and concise menu bar at the top of the website that features convenient drop-down tabs to outline the specific products under each product heading.
While both achieve the same objective, Herb Approach's format is more user-friendly, particularly for consumers who know what they're looking for. Even for those who don't, the Herb Approach site supplies an efficient way to see which products are available and help users take it from there.
Additionally, Cheeba's website design is crowded and visually disruptive, with large, trippy text and a zoomed-in homepage that isn't entirely aesthetically pleasing. Herb Approach's website is clean and organized, displaying the various offers and deals available without looking too busy.
Product Variety
Speaking of products, let's talk about what each MOM has to offer!
For many tokers, having a wide range of products to choose from is crucial in selecting their desired MOM. While there are advantages to being a specialist in one specific realm, MOMs typically incorporate items from different vendors and consolidate them in one location.
Both Herb Approach and Cheeba's offer cannabis flower, concentrate, edibles, CBD, topical and even pet-oriented product options. However, one MOM comes out on top when discussing the overall diversity of its products.
Let's start with the basics. Concerning standard cannabis flower, Cheeba's has 60 options to choose from, which pales compared to Herb Approach's impressive 259.
Additionally, Cheeba's holds 91 cannabis concentrate products against Herb Approach's astounding 658. That said, a good portion of Cheebo's concentrate collection is comprised of different kinds of shatter, specifically, whereas Herb Approach has a more diverse selection.
Cheeba's prides itself on the claim that they are the MOM that "everyone is raving about for hash product selection." Here, it reigns supreme, with 70 different hash variations compared to Herb Approach's 17.
When it comes to CBD, Cheeba's stocks 36 items to choose from, while Herb Approach offers over quadruple that, with 174 CBD products.
Concerning edibles, Cheeba's offers over 100 different options. However, it still isn't enough to beat out Herb Approach, which provides 447 yummy sweet and savoury toker treats for users to enjoy. As well, Herb Approach also stocks weed-infused beverages, which Cheeba's does not.
Another cool thing? Herb Approach has an AAAA Craft Collection consisting of limited quantity strains grown in small batches. This premium reserve is the crème de la crème of weed and we guarantee you won't find something like this over at Cheeba's!

With all this in mind, if it's product variety you're after, Herb Approach is the winner between the two.
Affordability & Point Systems
Who doesn't love a good bargain? If there's one thing that all stoners can agree on, it's that there's no better feeling than getting more bud for your buck!
This realm, in particular, is where Herb Approach and Cheeba's differ pretty significantly.
First and foremost, all you need to do is simply type the Herb Approach website in your browser, and the first thing you'll see is a large banner that transitions between the various daily deals and sales currently on offer.
If you scroll down further, you'll see the various cannabis flower options – conveniently sorted by indica, sativa and hybrid – on sale.
If you continue down further, you'll be presented with the different types of edibles on special, even further still, the concentrates on clearance before finally concluding with the deals on sample packs near the bottom of the page.
All of these offers are conveniently available directly on the Herb Approach homepage. Differentially, Cheeba's homepage outlines its latest product additions, staff picks, and top sellers instead.
However, this isn't to say that Cheeba's doesn't have any deals or sales. The homepage does feature a '420 Warm Up' link that transports users to a page of featured sale items. However, the title itself does not immediately imply that it's a sale.
Additionally, Cheeba's website also has a page outlining deals on certain products, but the selection is much smaller than Herb Approach.
Herb Approach also provides many more incentives to keep customers returning to their site.
One such example is their fun points system.
For every dollar spent with Herb Approach, users receive one point. For every 20 points they accumulate, they earn a $1 discount that they can apply to any future order. Customers can redeem their points on the 'cart' or 'checkout' page!
Another enticing element is that users receive their own unique referral URL upon registering an account with Herb Approach.
If they share this URL with friends who then, in turn, register for their own account, once approved, the initial user receives 500 points ($25) towards their account. When their referral makes their first purchase, users receive a $25 coupon voucher by email.
Finally, all customers whose orders total $150 or more receive a free gift at the time of their order.
If you're someone who appreciates the art of a good deal and making the most of your money, Herb Approach's special incentives will be right up your alley.
Herb Approach vs Cheeba's – Which Will You Choose?
When selecting the right MOM for your particular weed needs, the decision is ultimately subjective. However, when comparing different options, some have more noticeable strength points to consider than others.
More specifically, surrounding the differences between Herb Approach and Cheeba's, there are definitely points for both. However, one does come out as the more superior service overall.
In terms of an easy to navigate website, a broad scope of product variety and enticing sales incentives, we are officially crowning Herb Approach as today's winner! That said, the choice is ultimately yours.
Which will you go with?
Happy shopping!