Justin Beiber Weed – it's not something many people would have thought they would hear, but this pairing is now a reality.
Canadian pop-star turned cannabis enthusiast Justin Beiber has officially entered the weed business by launching his line of cannabis products. The 27-year-old Canadian Singer partnered with a weed company called 'Palms' to launch a line of pre-roll joints called [Peaches.']
If you've listened to the radio in the past few years, you'll recognize that Peaches is also the name of Beiber's biggest single to date.
In the song, Beiber says that he "gets [his] weed from California, but now, his fans can get weed from him!
Justin Beiber weed is just another star-spangled addition to an already celebrity-studded industry. Seth Rogen's Houseplant, Jay-Z's Monogram and Lil Wayne's GKUA Premium Ultra come to mind as other celebrity weed brands already on the market.
On Monday, October 11th, Beiber announced that his USD $32 pack of seven pre-rolled joints will be available exclusively in California, at least for now.
The sunshine state legalized marijuana consumption for over 21 in 2016.
In a statement to the press, Beiber is quoted saying that he's "a fan of Palms and what they are doing by making cannabis approachable and helping to destigmatize it – especially for the many people who find it helpful for their mental health."
Unlike other celebrities in the cannabis space who want to align their brand with prevailing cannabis culture, Beiber says that his partnership with Palms aims to normalize marijuana use.
Beiber says that he "wanted to make sure that I was doing something with them that felt genuine, and Peaches felt like a good place to start."
According to Palms, Beiber's partner weed company, Justin Beiber weed could be used as a force of good.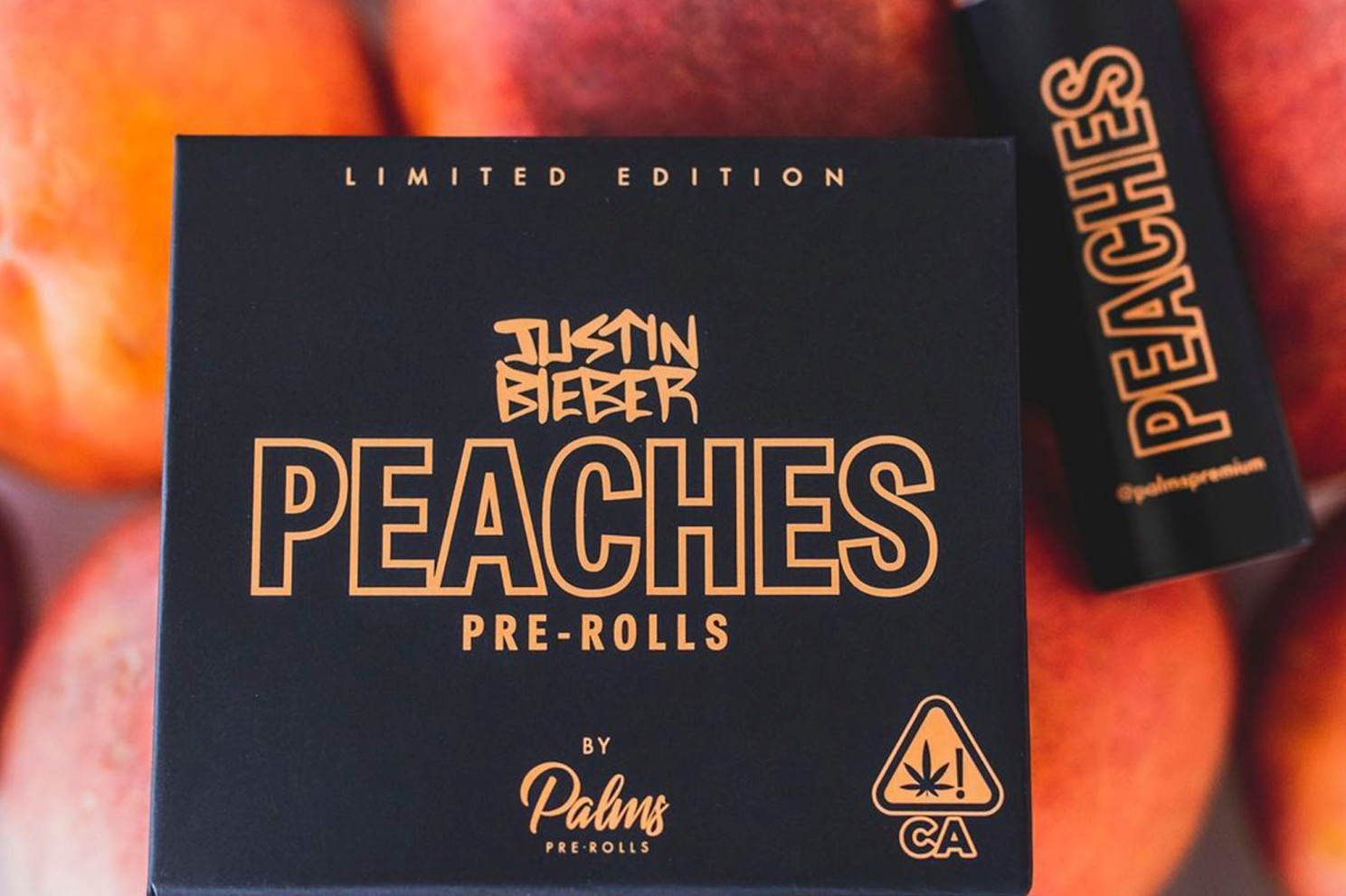 In an official company statement, Palm has stated that a portion of every purchase from Justin Beiber's 'Peaches' line of products will go towards Veterans Walk and Talk, an NGO group advocating for veteran use of cannabis and psychedelics. Another portion will be dedicated to the Last Prisoner Project, an NGO on a mission to help families and individuals impacted by unjust marijuana convictions.
In an interview with Vogue Magazine, Bieber said that "weed was something that I felt people tried to make me feel bad for enjoying, but I've now found a place in my life for weed products that have been beneficial in my human experience."
The Canadian Singer has long been an advocate for mental health and wellness, speaking extensively about his struggles in the past few years.
Noah Annes, a co-founder of Palms, said, "Justin's vulnerability and openness about his mental health struggles impressed us beyond measure, and we knew immediately we would want him to be at the helm of our first-ever collaboration. With Justin's help shining the spotlight on these important topics, we hope to inspire others to talk more freely about both mental health and cannabis consumption."
So what do you think? Will you be looking to purchase a pack of Justin Beiber weed, or will you stick to shopping with an online dispensary Canada? Whatever your choice may be, you can't deny that Justin Beiber's new venture cements Canada, or at least its celebrities', place in the global cannabis community.