UEM Cannabis vs Herb Approach – where should you spend your hard earned money?
It's fair enough to say, at this point, that we, as cannabis lovers, are spoiled.
Nowadays, there are more options in terms of products, ingestion methods, accessories and even retailers than ever before, providing a diverse range of choices to suit whatever and whichever needs a particular user may have.
However, that said, it's important to note that not all of these options are created equal. Many factors can impact the selections that consumers decide to make, including quality, price, produce range, accessibility and general availability.
Today, we're discussing the most significant differences between government-run marijuana dispensary UEM Cannabis and popular mail-order marijuana service Herb Approach.
By the end of this article, we aim to get to the bottom of why users may opt to use one instead of the other and, ultimately, which provides the better deal!
What is a Mail-Order Marijuana Service?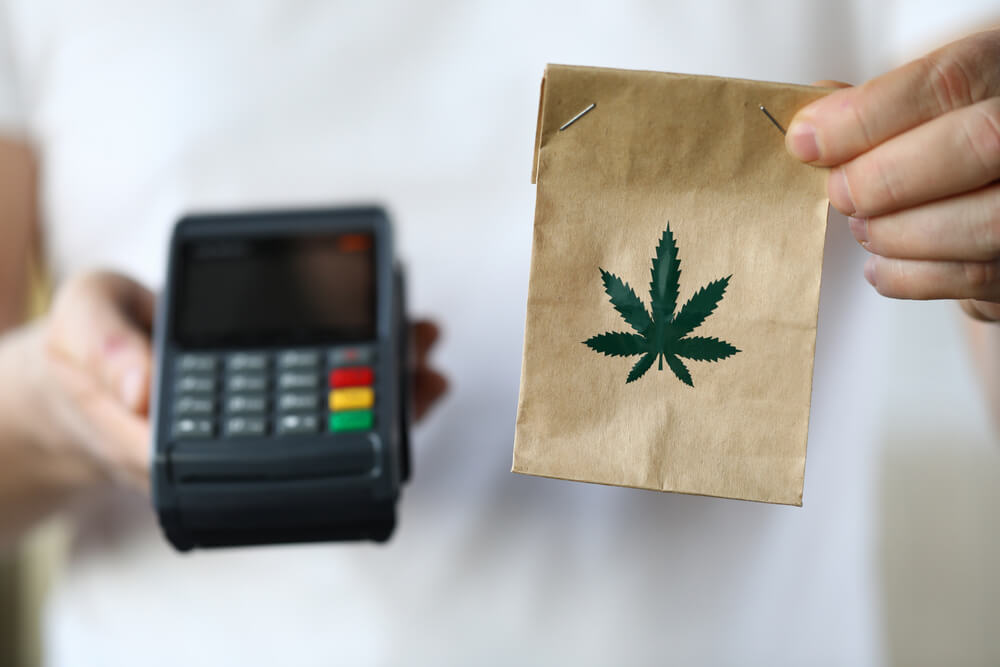 Before we delve too heavily into the differences between UEM Cannabis and Herb Approach, we should first explain what a mail-order marijuana service is.
Essentially, mail-order marijuana, or MOMs for short, are retailers that base their business on leveraging convenience and efficiency to deliver products directly to customers' homes. Typically, these services conduct their transactions online through an eCommerce website.
These companies grant users the flexibility to select their various products, place their orders, and buy weed online without visiting a physical storefront location.
In more straightforward terms, MOMs are typically run for blazers, by blazers, which is why many consumers rely on them not solely for their product selection but also for their diverse expertise, knowledge and insights.
Arguably, this understanding is lost on many government-operated dispensaries, rubbing many tokers the wrong way as they interpret these outlets as disingenuous and self-serving.
Still, there's much more to the weed world than just comprehending the science and legality of cannabis. As we said, it's a culture and a community in itself, built on trust, loyalty and void of judgement.
So, for many, MOMs are more 'their people' than more stringently operated government retailers.
UEM Cannabis vs Herb Approach
When it comes to UEM Cannabis and Herb Approach, specifically, we're happy to say that both have accessible, easy-to-navigate websites. Users can utilize these digital platforms to find a wide range of products, including straight-up cannabis flower, concentrates, edibles, vaporizers and more.
However, we must admit that the UEM website is somewhat void of creativity and, in our opinion, far less aesthetically pleasing than Herb Approach, which draws the eye with its crawl banners and eye-catching colour schemes.
The homepage of the UEM Cannabis website has a lot of empty space that makes it appear as though it's still a work in progress. That said, they could be going for a minimalist, straightforward look.
You know what they say, beauty is in the eye of the beholder! Still, this isn't a web design beauty contest, so let's get into the meat and potatoes of what each company really has to offer.
Today, we're comparing UEM Cannabis and Herb Approach based on the following set of criteria:
Product Selection
Pricing
Deals & Gifts
Product Selection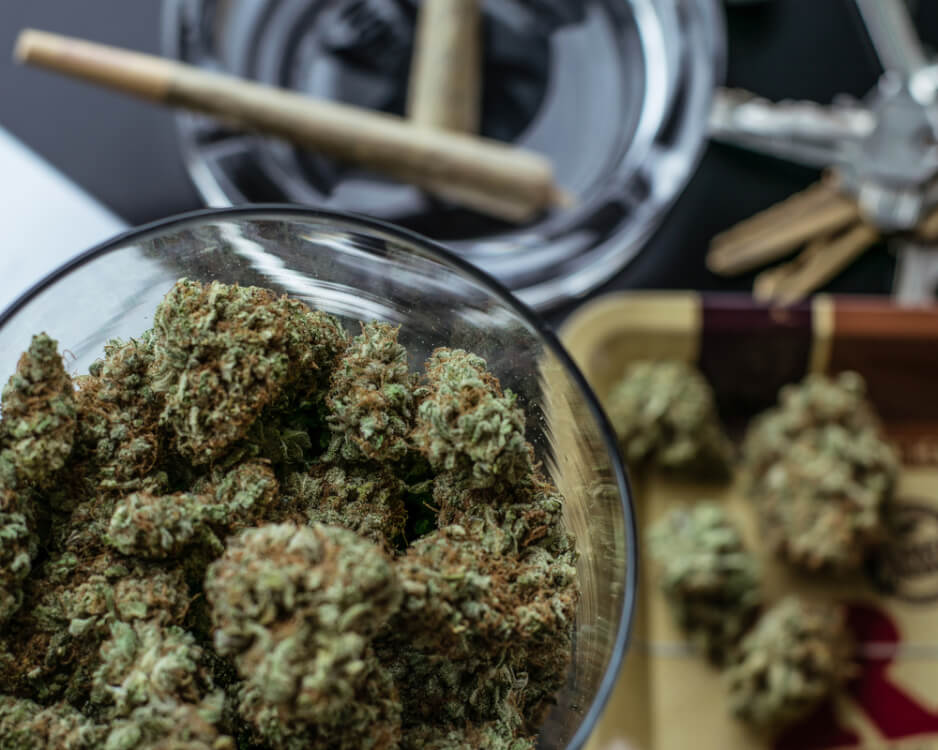 Luckily, both Herb Approach and UEM Cannabis offer a decent amount for product variety, including dry flower, concentrates, vaporizers, edibles, and topicals. However, how many items fall under these different categories is an entirely different story.
When it comes to the cannabis community, variety is the spice of life. In other words, people like to have options, and while UEM offers some diversity, it pales in comparison to Herb Approach's broad catalogue of available products.
For example, compared to the 50 dry flower strain varieties UEM provides, Herb Approach blows them out of the water with a whopping 256 flower choices.
In regards to cannabis concentrates, Herb Approach offers 345 different options, whereas UEM only supplies 12.
Edibles aren't much different, with UEM having 47 options to Herb Approach's staggering 445.
Across the board, in all of the categories mentioned above, Herb Approach comes out on top regarding the sheer variety of product selection.
Additionally, and arguably one of the most crucial advantageous factors, Herb Approach isn't confined to specific limits surrounding dosage levels. Within the confines of Canada's Cannabis 2.0 legislation, Canada edibles are only permitted to contain 10mg of THC per package – not per edible, per package.
If you're an experienced toker or somebody that needs a stronger dose, you're going to be spending at least $50 just to get 50mg of THC. Conversely, Herb Approach has 200mg THC edibles that cost around the same amount as UEM's 10mg THC edibles. Herb Approach is also home to the strongest edibles in Canada.
So, if you're a frequent cannabis user with a higher tolerance level, this is less than ideal. In other words, if you have a higher resistance to the impacts of THC, 10 mg might not be enough to produce the desired, if any, effects.
It's a no-brainer where you should get your edibles from. Unsurprisingly, this is where many savings-savvy tokers choose to do.
With this in mind, even though UEM offers a more diverse selection of cannabis edibles than other, less versatile government dispensaries, they are still severely limited by the dosage levels they're permitted to sell.
This constraint factors into pricing as well, which we'll talk about in the following section.
Pricing
First things first, there is nothing wrong with treating yourself! Most of us are no stranger to spending a little extra of our green to splurge on some quality green – if you know what we mean.
That said, you shouldn't have to break the bank to get your hands on some bud. You also shouldn't have to pay more money for less THC when purchasing from government dispensaries instead of a MOM, like Herb Approach.
As we outlined in the previous section, government dispensaries are limited with the dosages they're permitted to distribute in the realm of edibles.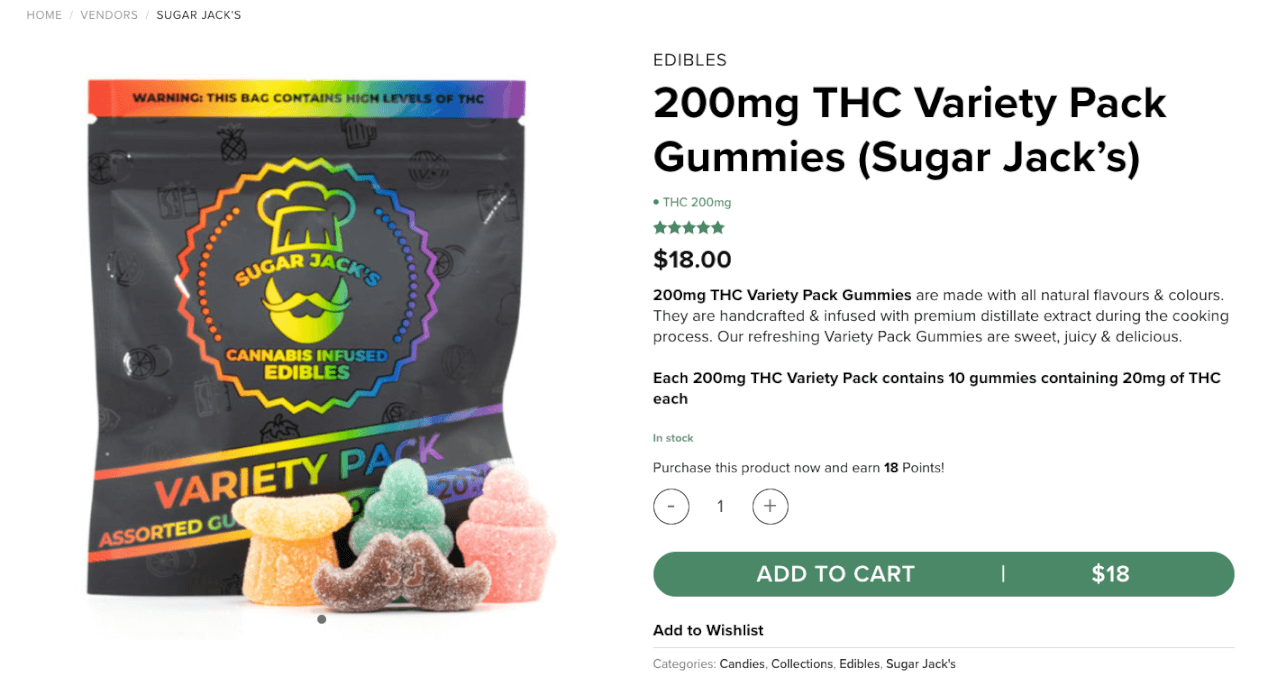 For example, you could purchase a 5 piece collection of Sour Medley Chews from UEM Cannabis for $5.28.
It may seem like a fantastic deal at face value. However, it's important to remember the legal limit for THC doses in edibles, 10 mg. In other words, there are 5 gummies in the pack, but the entire package only contains 10 mg of THC.
Differentially, at Herb Approach, you can purchase a variety pack of gummies for a bit more at $18, but literally receive 20 times the amount of THC at 200mg per package.
So, while it may cost a little extra, the pack itself will contain far more THC and likely last you longer in terms of usage duration, which, in our opinion, is the better deal.
Even in the context of other products, you still aren't necessarily getting the best deal from a dispensary such as UEM Cannabis.
For instance, say you want to partake in an oldie but a goodie, OG Kush. At UEM Cannabis, for 3.5 grams of this strain, it costs $46.40. On the other hand, at Herb Approach, 3.5 grams of OG Kush goes for about $10 cheaper at $36.
Even further still, Herb Approach offers more variety regarding the amounts you're able to purchase, with 2, 3.5, 7, 14 and 28-gram options, whereas UEM only offers OG Kush at 3.5 grams.
Deals & Gifts
As we said, there is absolutely nothing wrong with treating yourself. That said, one universally true thing is that everyone loves a bargain!
Discount offerings are where the appeal of Herb Approach especially stands out. This MOM is clearly passionate about enticing and keeping its customers interested by consistently offering various daily, weekly and flash deals.

Compared to more conventional retail, such as government dispensaries like UEM Cannabis, Herb Approach provides heavy discounts that keep customers coming back for more while being more friendly on their wallets.
Who doesn't want that!
Herb Approach is so adamant about providing the best possible prices and offers, in fact, that the first thing you see when opening the Herb Approach website is the various discounts and sales they currently have on.
You'll first see the various flower on special, conveniently sorted into indica, sativa, and hybrid categories. If you scroll down, you'll then be presented with the various edibles, broken down into candies, chocolate and drinks and concentrates comprised of shatter, vapes and rosin that are currently on sale.

Just when you thought the situation couldn't get any sweeter, Herb Approach also offers a gift tier system, providing users with free gifts when they spend different amounts for purchases of $300, $400, $500, $750 and $999.
Those numbers may seem high at first glance, but with the sheer number of deals offered on a regular basis, you'll be surprised how little time it takes to work your way up to these gifts.
As far as we can tell, after perusing the UEM website, we weren't able to find any exclusive offers, ongoing sales or deals that users could take advantage of or utilize. Instead of featuring budget offers on their homepage, they showcase the various popular products under each category.
UEM Cannabis vs Herb Approach – You Decide!
The feature that tokers appreciate most about MOMs is that they don't have to travel anywhere to obtain their purchases. This advantage is particularly appealing for users who live in remote or lower traffic areas where it is challenging to visit a physical dispensary.
This concept is another point awarded in favour of Herb Approach. With their service, users can buy weed online without having to venture anywhere, having their orders delivered directly to their door conveniently and discreetly.
The same offer is not available with UEM Cannabis. In other words, you have to journey to their physical retail location to pick up and obtain your items.
With this final tally in mind, based on our criteria comprising product selection, pricing and deals and gifts, Herb Approach reigns supreme, winning 3 for 3 across the board.
That said, ultimately, when debating between MOMs and government dispensaries, it comes down to your proximity to a dispensary, particular weed needs and individual lifestyle. In this sense, it's up to you to decide your personal preference.
Whichever works best for you is good with us, have fun and enjoy!