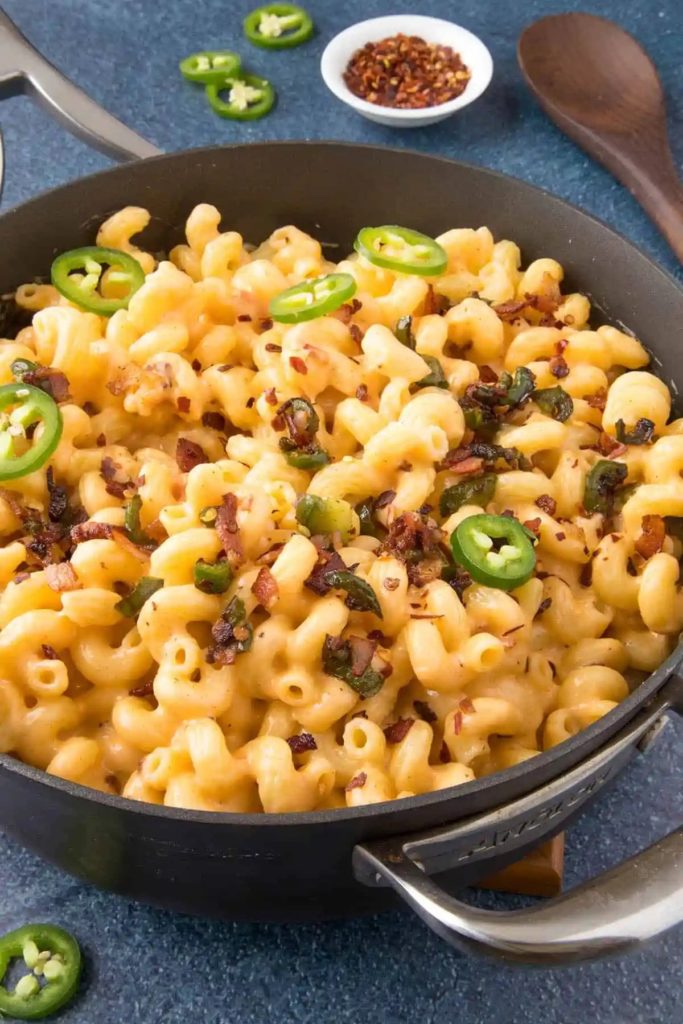 This Mac and Cheese recipe is the ultimate stoner comfort food, thanks to its creamy, just-spicy-enough sauce. Be careful not to overmedicate by keeping portion sizes in mind when you make it. As the crunchy panko breadcrumb topping makes it even more crave-able.

We medicated the Jalapeño Marijuana Mac and Cheese recipe with marijuana butter, which has about 20 mg THC per serving.


Learn how to make Cannabutter Here!
INGREDIENTS:
1 lb Elbow Macaroni

1/8 Cup Cannabis Infused Butter

1/8 Cup Salted Butter

2 1/2 Cups half-and-half Cream

225 Grams of Cream Cheese

115 Grams of Cheddar Cheese

115 Grams of Pepper Jack Cheese

1/4 Teaspoon Cayenne Pepper

Salt and Pepper to Taste

Jalepenos
TOPPING:
1/4 Cup of Melted Butter

1 cup of Panko Bread Crumbs
INSTRUCTIONS:
Preheat the oven to 375 degrees F and Place an oven rack in the upper third of the oven

Bring a large pot of salted water to a boil. Add the macaroni and cook until al dente, about 5 minutes. Strain the pasta, saving 1 3/4 cups of the pasta water. Put the strained pasta and pasta water aside.

Melt the canna-butter and butter in a pot over medium heat. After 5 minutes, stir cut up  jalapeños into the pot; transfer to a small bowl and save.

Add the half-and-half cream to the saucepan and simmer until it just begins to simmer. Continue simmering until the half-and-half has been reduced to 1 1/2 cups in quantity, about 10 minutes.

Fully incorporate the Cream Cheese and stir until incorporated. Stir in the Cheddar and Pepper Jack cheeses until they are melted and the sauce is smooth.

Stir in the macaroni and pasta water until the mixture is well incorporated. Season with cayenne, salt, and pepper

Pour into the appropriate baking dish.The macaroni will absorb lots of sauce as it bakes.

In a separate bowl, Mix 1/4 cup melted butter with the panko crumbs. Cover the pan with an even coating of butter-brushed bread crumbs.

Place jalapeño slices on top of the bread crumbs. Bake until the filling is bubbling and the topping is lightly browned, about 20 minutes.
Thats it thats all there is to our Jalapeño Marijuana Mac and Cheese. If you wanted to check out some more of our recipes, you can find them here!