Rice Krispy Edibles have to be one of the easiest edibles recipes to make. They are popular for a reason!  People love the flavor and crunch of these simple treats. For cannabis lovers, they are a simple to make edible that's easy to infuse with cannabis.
If that's not enough, you can get get creative in a culinary way and make lots of variations on the basic recipe. If you come up with any great new variations, be sure to share them in the comments below.
Cannabis in Rice Krispy Edibles
Rice Krispy Edibles contain butter, so it is super simple to swap out some or all of the butter in the basic recipe for cannabis infused butter.
For those trying to avoid butter, I you can swap out infused coconut oil for the more traditional butter.
Coconut oil works well for a butter-free alternative, but know that because of the gelatin used to make marshmallows, this will NOT be a vegan recipe, even if you do opt to make it with infused coconut oil.
Dosages for Cannabis Rice Krispy Edibles
Each of the Rice Krispy Edibles portions in the recipes below will have about 25mg THC IF you made your cannabis butter or cannabis oil from average cannabis (10% THC) and used 1/2 ounce of marijuana to make 1 cup cannabis infused butter or coconut oil.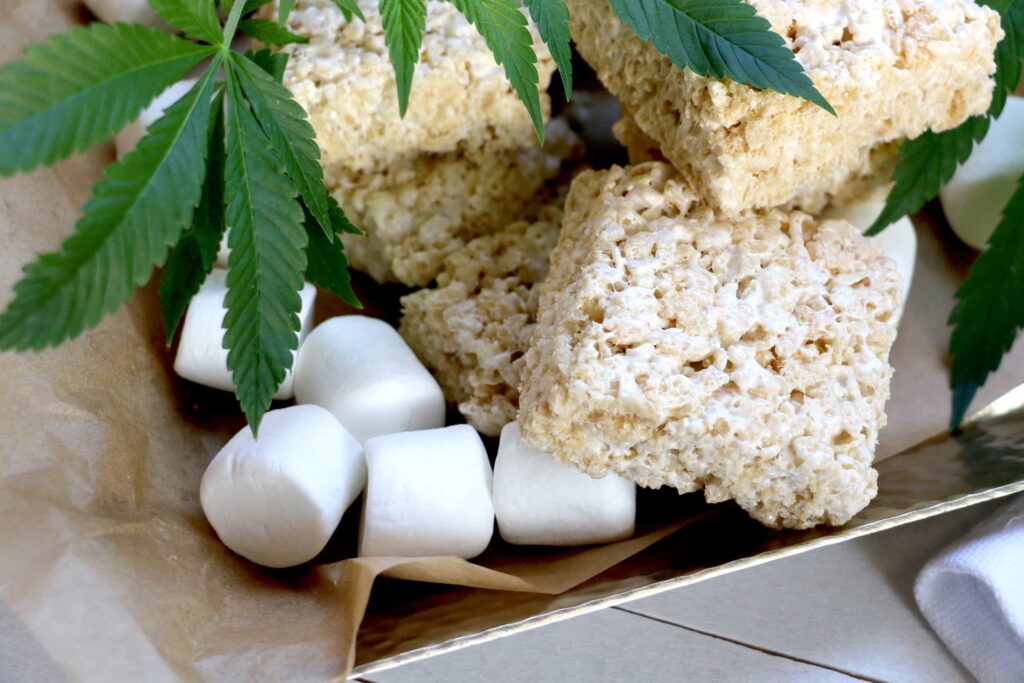 INGREDIENTS
1/4

 

cup

 

cannabis infused butter

10

 

ounces

 

marshmallows

 

regular or miniature

6

 

cups

 Rice Krispies cereal

1/2

 

teaspoons

 

vanilla extract

 

optional
INSTRUCTIONS
1. Butter a 13X9 inch pan. Set aside.
2. In a large saucepan over low heat, stirring constantly, melt cannabutter.
3. Stir in marshmallows and continue to cook over low heat, stirring constantly, until marshmallows are completely melted.
4. Remove from heat and immediately stir in cereal until well coated.
5. Spread mixture in the prepared pan, smooth top with a spatula. Once cool, cut into 2-inch squares.
6. Enjoy your Rice Krispy Edibles!