Seniors smoking weed isn't a headline you'll see every day but 74-year-old Marvin Yeoman says that he's proud to see that more and more "senior citizens" are trying the substance for themselves.
Rene Yeoman, a Florida native and wife to Marvin Yeoman, said that she "never, never, ever even thought about marijuana when I was growing up — never in college, as a young adult or as a middle-aged adult,"
"It was just not even something that was on my radar," Rene said.
However, when both of them were subjected to recent major surgeries, they had decided to experiment with cannabis on their daughter's suggestion to treat their chronic pain and aid in their recovery.
To their surprise, they ended up enjoying the effects of weed!
Rene Yeoman says that the effects of weed edibles helped her get through the night without relying on other medications and painkillers. Fortunately, her sentiments are shared by other members of the elderly community.
READ: Top 3 Strongest Edibles in Canada 2021
"When I go to the dispensary, there are more elderly people in there than there are young people," said Marvin Yeoman.
Dispensaries, once reserved for younger generations, have started to cater to older and more mature audiences.
While some still play loud music and have their design styled towards attracting younger crowds, many if not all dispensaries will be more than welcome towards a senior citizen or a mature first-time weed user.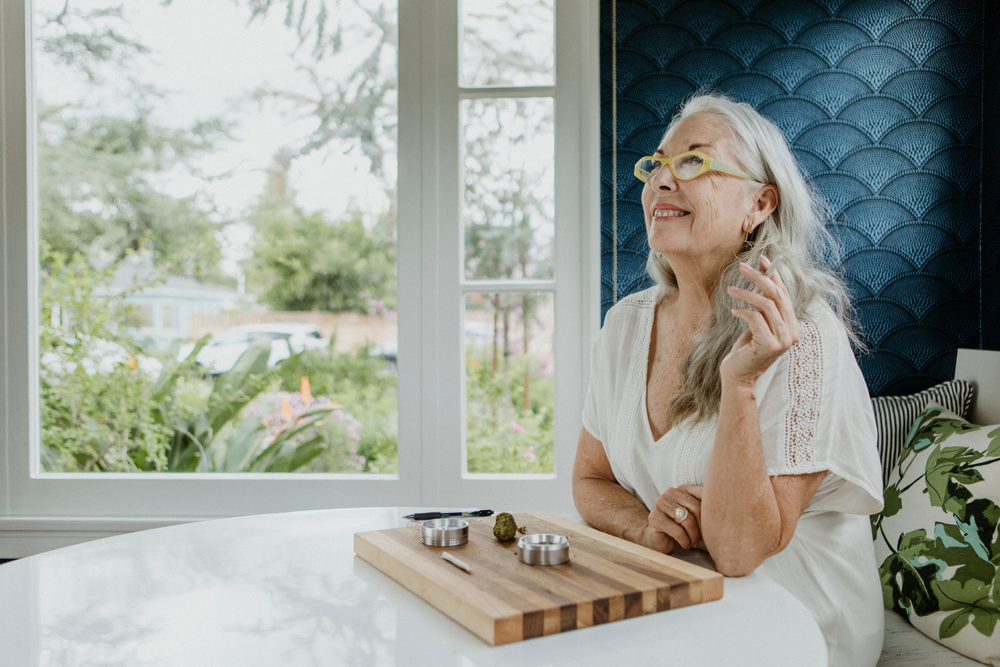 These changes signal a trend towards rising weed use in older adults.
In the United States, the portion of adults 65 or older who reported recent weed use increased by 18%, according to the 2020 National Survey of Drug Use and Health (NSDUH) released last week. 
In Canada, older Canadians are the fastest-growing group of weed users, according to a recent report by Statistics Canada. More than 25% of first-time users are Canadians aged 65 or older with 10 times more seniors smoking weed today than in 2012. 
"It's accepted now," Marvin Yeoman said. "You used to have to sneak in the back alley to purchase it, but now you can just walk right into the store and buy it."
Dispensaries, and online dispensaries, in particular, have made it easier than ever to buy weed online and get it shipped directly to your door. The legalization of cannabis and the subsequent normalization of it has led many to switch over to weed instead of their usual pain medications. 
Taking cannabis means Rene Yeoman doesn't have to take as many other prescription drugs, she said.
"I've been on just about everything, for either migraines or my back or whatever," she said. "We don't like to take those heavy medications, of which you can become addicted, you know? With the edibles, you just kind of seem to just relax."
One Florida-based weed company has even said that they've "found that, more than almost any other audience, seniors are incredibly receptive to cannabis and its medicinal benefits."
"In fact, seniors are some of our most educated and passionate [customers]."
Despite the increase in seniors using weed and cannabis products for medicinal purposes, more research is needed on the impacts of marijuana on older adults and the elderly.
Dr. Juan Sanchez-Ramos, a professor of neurology at the University of South Florida, says that weed could reduce insomnia and irritability in Alzheimer's patients, improve Parkinson's symptoms and remove arthritic pain.
RELATED: CBD – The Secret Big Pharma Doesn't Want You to Know
"THC is safe for older people and won't cause confusion or disorientation at modest and low doses," Dr. Juan Sanchez-Raoms said. "But it should be definitely supervised by a physician. If your physician has no experience with cannabinoids and your condition, I would try to find a medical cannabis expert who does."
Despite the benefits, Sanchez-Ramos says that he prefers recommending more traditional treatments first before suggesting cannabis.
"This is basically an alternative treatment for when individuals aren't doing well with the standard pharmaceuticals," Sanchez-Ramos said.
"In some people, it may be actually much better, but it isn't the first thing that comes to mind."
So, while seniors smoking weed is popular, it might not have the complete thumbs-up from the medical community just yet. However, if anecdotal accounts are worth anything, then there is a huge upside from toking on a joint instead of popping some painkillers!